This is an archived article and the information in the article may be outdated. Please look at the time stamp on the story to see when it was last updated.
(WHNT) – It was a steamy Wednesday with highs in the middle to upper 90s for some. With a cold front and showers in the forecast, it won't be as hot today.
As of 8am, things are quiet. The bulk of the activity remains across the Ohio Valley and middle Atlantic this morning with severe weather including damaging winds moving through that area. There is a trailing cold front currently near St. Louis that heads our way this afternoon.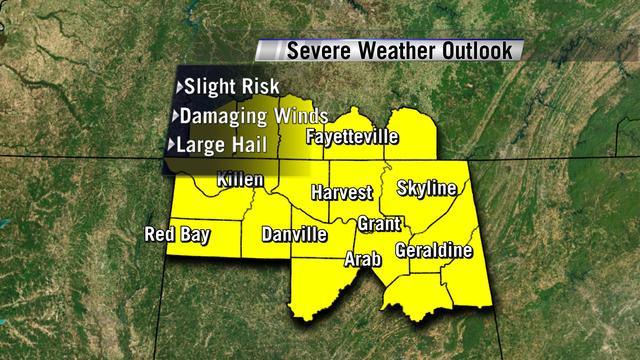 With high humidity, hot temperatures, and instability in place, severe storms are possible. The main threats are damaging winds and hail. The chances for tornadoes is low, mainly to our northeast today. The Storm Prediction Center has portions of the middle Atlantic under a *moderate risk* for severe weather today. Here is a map of the Tennessee Valley. Everyone is under the *slight risk* for today.
We have a welcome change in our temperature forecast. This time of year, we can have a stretches of 90s that don't want to end. Well, we get a break Friday. High pressure retreats west allowing cooler and drier air to filter in. Highs Friday only reach the middle 80s which is slight below the average of 88°. Expect a mostly sunny sky. Enjoy the brief cool down because it won't be long when that ridge moves east and the Tennessee Valley cooks again! The lighter red and orange represent cooler temperatures.