This is an archived article and the information in the article may be outdated. Please look at the time stamp on the story to see when it was last updated.
It's a wet start to your Thursday morning. Temperatures are in the 40s with light rain in the area. Today will be a little different. By the time you get home from work, temperatures will be much colder and you may encounter a few snow flurries. Don't worry, no accumulation is expected. Much colder air arrives this afternoon into the overnight. We'll go from 40s now, into the middle 30s this evening. The temperature turns much colder over the next few days.
Expect highs on Monday in the upper 20s to lower 30s even during the afternoon and it gets colder than that Tuesday.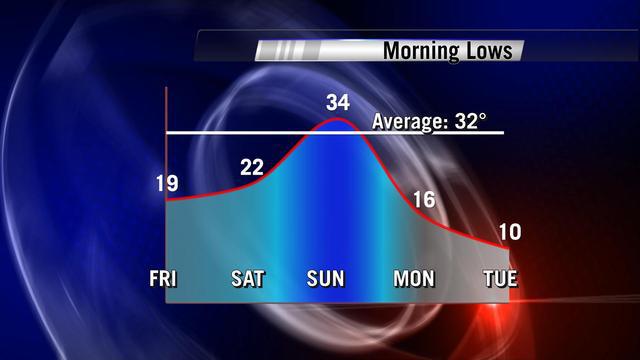 Here is the five day temperature trend. We'll see the coldest air at least since 2011 in the Tennessee Valley where lows got down into the single digits. You might recall all the snow we received around that time. This time no snow is expected….just a very cold forecast. Here are a few tips in preparation for the very cold air:
Dress In Layers
Wear A Hat & Gloves
Cover Your Extremities
Drink Plenty Of Water
Be Careful Around Space Heaters
Drip Pipes Monday-Tuesday
Check On the Elderly