This is an archived article and the information in the article may be outdated. Please look at the time stamp on the story to see when it was last updated.
MARSHALL COUNTY, Ala. – A lone thunderstorm near Grant produced a towering cloud which could be seen from dozens of miles away Saturday evening.
Photos from as far away as Somerville and Trinity of this big cloud were sent in by WHNT News 19 viewers.
Towering cumulonimbus cloud over Marshall County as seen from Harvest (Photo: Derek Blakely)

Saturday evening from South Huntsville.

Beautiful clouds Saturday night.

Saturday night from South Huntsville.

Photo of Marshall County storm as seen from Decatur (Photo uploaded using the WHNT News 19 app)

Marshall County storm cloud (and full Moon) seen from Trinity (Photo: Jeremy Jackson/WHNT News 19)

Marshall County storm seen from Laceys Spring (Photo: Krissy Huber)

Storm over Marshall County seen from Somerville (Photo: Jayna Grissom)

View of the storm in Marshall County from Wheeler Lake (Photo: Cynthia Ray)

Clouds Saturday evening (Photo: Jim Spinoso)

View of the Marshall County storm cloud (Photo: Jeff Huber)

Marshall County storm cloud as seen from East Limestone (Photo: Brenda Smith)

Marshall County storm cloud as seen from Hazel Green (Photo: WHNT News 19 viewer)

View of the Marshall County thunderstorm cloud from Madison (Photo: James Burton)
The thunderstorm cloud was towering as high as 45,000 feet. The technical name of the cloud is cumulonimbus.
The flat portion at the top of the cloud is the anvil, sometimes called a thunderhead. The anvil occurs at the tropopause, or the very top of the lower part of the atmosphere and just below the stratosphere.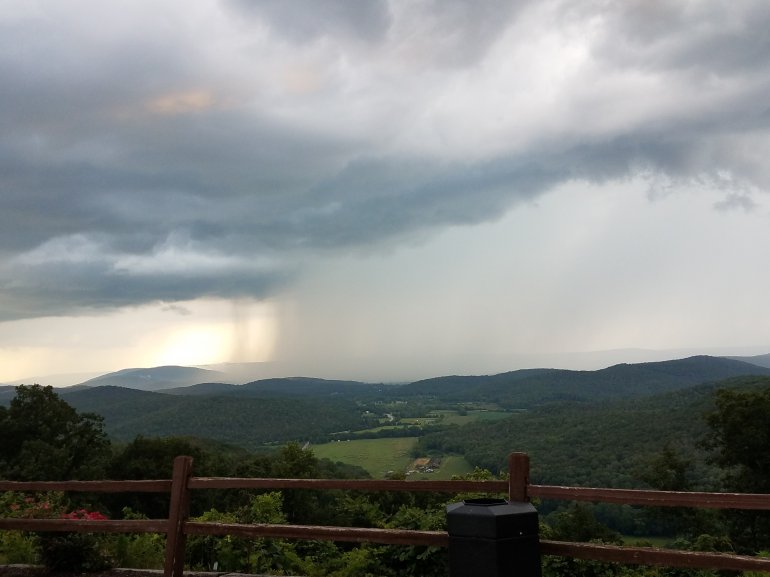 WHNT News 19 viewer Amanda Weeks shared this photo of what it looked like underneath that big thunderstorm cloud.
Tremendous amounts of rain fell in northern Marshall County near Cathedral Caverns. Radar estimates that between one and three inches of rain fell there Saturday afternoon.
Do you have a photo you would like to share? Click the 'submit your photo' button below to upload your weather photo straight from your phone's photo library. We'll add photos to the gallery as they come in.
You may also upload photos through our Live Alert 19 or WHNT News 19 mobile apps. Send photos by email to photo@whnt.com. We also browse Facebook, Twitter, and Instagram for photos tagged with #valleywx.