This is an archived article and the information in the article may be outdated. Please look at the time stamp on the story to see when it was last updated.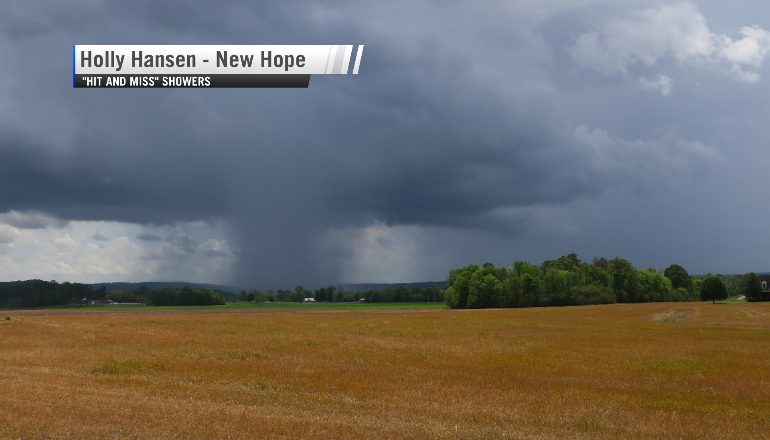 Often in a weather report, you may hear a meteorologist say "there's a chance for scattered hit and miss showers and storms today."
Monday afternoon's storms provided picture-perfect examples of these "hit and miss" situations:
Scary looking rainshaft seen as I was approaching Huntsville from the west at 4:25. #notatornado #alwx #valleywx pic.twitter.com/S8nwgpd6M7

— Mike Wilhelm (@bamawx) April 17, 2017
In these photos from Mike Wilhelm, you can see areas of blue skies and sunshine surrounding the rain clouds. In the center is the rain curtain, or rain shaft, which is darker area falling from the bottom of the clouds.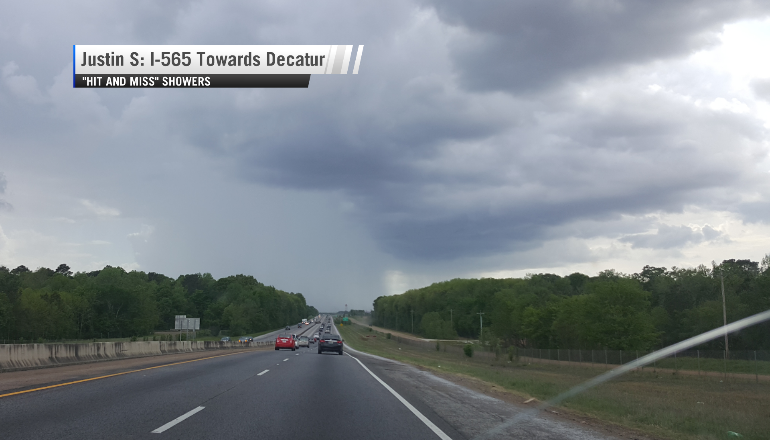 Here is another view of one particular shower as it fell over Decatur. The radar imagery from 3:45pm shows the location of the shower, yet I-565 Westbound was still dry.
"Hit and miss" showers can prove frustrating for both you and meteorologists alike. It may seem that meteorologists are being wishy-washy when they show a partly cloudy/rain icon with a percent chance for a storm or rain shower.
However, as these photos illustrate, rain can literally fall on one neighborhood and completely miss another location, even if it's across the street. These locally heavy downpours can drop as much as half an inch of rain over where they move, yet a nearby neighborhood may completely miss out on the rain and remain bone dry.