This is an archived article and the information in the article may be outdated. Please look at the time stamp on the story to see when it was last updated.
It's been hard to get a dry weekend around here lately, and if you were hoping this would be a pretty one for being outside, we have bad news for you. Six of the past seven weekends have been wet; the upcoming weekend will make it seven of eight.
Starting Friday, the forecast gets awfully wet and occasionally stormy. It won't rain every hour of every day from Friday to Monday, but you will have to contend with on-and-off rain through the weekend.
Timing it out: Big, powerful storm systems like the Nor'easters impacting the East Coast lately are usually pretty easy to figure out when it comes to timing. Small, weaker systems (we often refer to them as 'waves' in the atmosphere) are notoriously hard to figure out when it comes to what time rain will arrive.
That's what we're dealing with from Friday to Monday!
As it stands now, our best shots at rain and storms come Friday night into Saturday morning, Sunday evening, and another wave on Monday (likely later in the day or Monday night).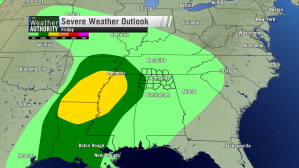 There is a chance a few storms in that time frame could be severe with some gusty winds and hail. How do you handle that? Just be ready in case a heavy storm comes upon you. Live Alert 19 is a great resource to have on weekends like this because there may not be a 'watch' issued in advance of one or two storms growing strong.
Track heavy storms with WHNT.com's Interactive Radar or swipe over to the radar feature on Live Alert 19!
Total rainfall this weekend may add up to as much as 1/2″ to 1″ on average with a few spots getting more (where multiple heavy downpours pass between Friday and Monday).
Another freeze next week? Huntsville averages about 7 freezes in the month of march historically. We've had four so far including Wednesday morning's freeze, so having at least one or two more nights at or below 32ºF would not be totally unprecedented.
After the stormy weather ends Monday night, colder air moves in on Tuesday. That sets up another night of freezing temperatures Tuesday night into Wednesday morning, and we will be close to yet another one Wednesday night through Thursday morning of next week!
Need some specifics about the weekend or next week? They're always online at WHNT.com/Weather and in the "Daily Forecast" section on Live Alert 19!
-Jason
Connect with me!
Facebook: Jason Simpson's Fan Page
Twitter: @simpsonwhnt