This is an archived article and the information in the article may be outdated. Please look at the time stamp on the story to see when it was last updated.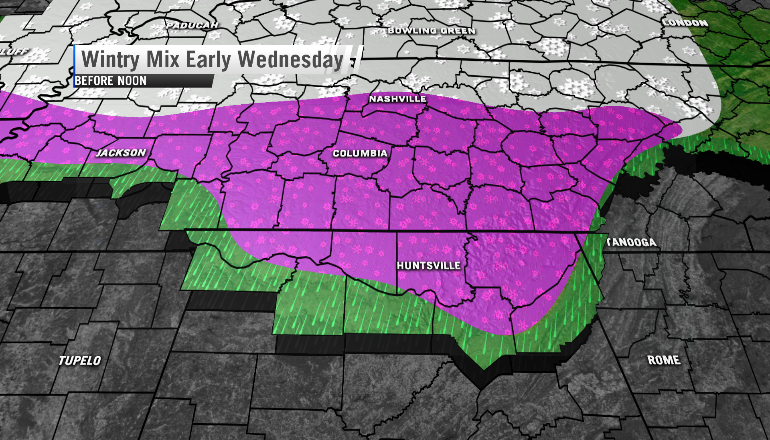 By now, you are likely aware that some wintry weather is possible for the Tennessee Valley on Wednesday morning.
In fact, we have been talking about it within our forecast discussion as well as giving you the latest updates on the air.
But this is one of those forecasts that is difficult to make due to uncertainty, namely when the precipitation will arrive and will it get here before temperatures warm above freezing.
A deeper dive into the timing details
Below is an excerpt from our forecast discussion with regards to Wednesday:
There is a chance that some sleet and/or freezing rain could cause slick travel for the first part of the day especially in Northeast Alabama and Southern Tennessee. We should warm up enough for a change to rain by afternoon with highs in the lower 40s.
Below are the forecast temperatures Wednesday morning from 5 a.m. to 12 p.m. Note that there will be numerous pockets where temperatures will fluctuate above as well as below the freezing point of 32 degrees. Depending on the arrival of the precipitation and when these areas remain below freezing, some frozen precipitation.
This looks like a short-term, limited-impact kind of winter weather episode. The #1 factor limiting the impact is the lack of heavy precipitation while temperatures are under 32ºF. Only light, patchy showers (mixed with some freezing rain and sleet) move over North Alabama and Southern Tennessee before 9 AM Wednesday. More widespread showers are likely as temperatures rise into the lower 40s by afternoon and evening.
Here's the hour-by-hour look at what to expect Wednesday morning. Keep in mind that green denotes areas of rain; pink denotes areas of wintry mix (like sleet, snow, freezing rain as well as rain), and blue denotes areas of snow.
Bottom line: Some slick spots are possible early Wednesday morning, especially north of US 64 between the hours of 5 a.m. and 12 p.m.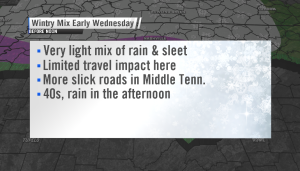 Freezing rain, sleet and some snow are more likely north of US 64 into the Nashville area and eastward on the Cumberland Plateau; if the warm air's push is not as strong as expected, it could be very problematic for travel north of Fayetteville and Winchester through Wednesday afternoon.
Stay ahead of the weather by downloading the WHNT LiveAlert19 app — in addition to live radar updates, it will notify you whenever an alert has been issued for your area. You can also follow us on Twitter as well as Facebook for the latest information as the event unfolds.