This is an archived article and the information in the article may be outdated. Please look at the time stamp on the story to see when it was last updated.
Monday morning's Winter Weather Advisories expired at noon, and icy conditions in Northeast Alabama turn to just a plain, wet, chilly January day. Light rain continues through the evening gradually tapering off to some spotty showers and drizzle overnight. Temperatures hold stead or slowly rise through the lower to middle 40s by sunrise Tuesday.
A south breeze for the next three-and-a-half days really helps turn temperatures around for the rest of the week! We'll hit the 50s Tuesday (first time above 50ºF since December 23rd: 17-straight days), and then it warms into the 60s on Wednesday and Thursday ahead of one more intensely cold blast of Arctic air arriving Friday.
Rainy, warmer weather: The recent streak of cold weather sits near the top of the list of 'coldest starts to a calendar year' at number two. The coldest stretch was in 1928 (average temp of 23.2ºF); the first seven days of 2018 averaged 25.2ºF (16.1ºF below the 30-year average).
The ground is still cold, but occasional rain and warmer air will soften it up and probably create a lot of fresh pot holes in the area! Temperatures soar to the 50s and 60s for the rest of the week; the warmest day looks to be Thursday: middle to upper 60s.
Arctic cold and snow potential: January is a wild month! It's been cold, not it's getting warmer, and there's one more BIG, nasty shot of Arctic air lined up to blow through here Friday through the first part of next week.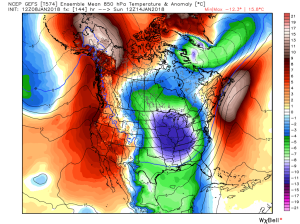 We expect rain and a few thunderstorms around (no severe storms in view right now) Thursday night and Friday morning totaling up more than one to two inches of rain for the entire week.
Behind the cold front, two jet-stream level disturbances pass over potentially producing two rounds of snow showers: Friday night into Saturday and again early Sunday.
Those disturbances are small, compact systems, so it's entirely possible that the precipitation stays in Tennessee OR all in North Alabama. The closer we get, the easier it will be to see where that snow is possible and where it just stays cold and dry.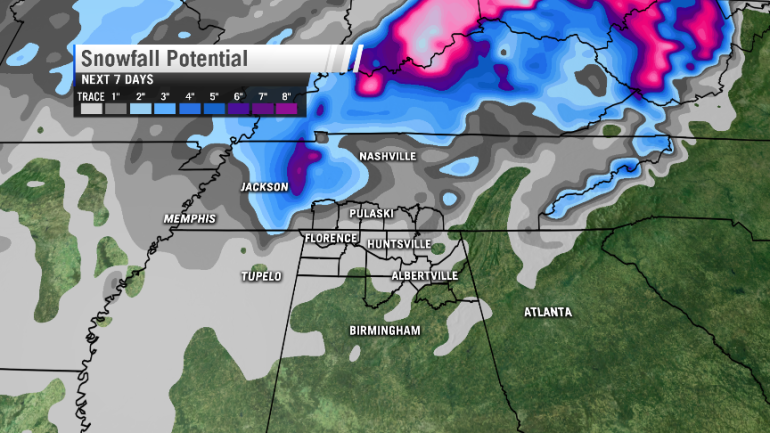 Speaking of the cold, the air mass blowing in here this weekend likely has the coldest air we've had yet: born over northern Siberia, coming over the North Pole, and freezing the eastern half of the US. With any snow cover on the ground at all we could be near zero by Monday morning.
Need some specifics about the weekend or next week? They're always online at WHNT.com/Weather and in the "Daily Forecast" section on Live Alert 19!
-Jason
Connect with me!
Facebook: Jason Simpson's Fan Page
Twitter: @simpsonwhnt