This is an archived article and the information in the article may be outdated. Please look at the time stamp on the story to see when it was last updated.
It's Winter Weather Awareness Week in the Tennessee Valley! This week won't feel like winter, but the mild conditions will make it easy to prepare yourself for when winter gets underway.
What To Do Now: To be prepared ahead of time you should have a plan for winter weather both at home and on the go. It's recommended that you keep the following items at home in case you can't leave due to winter weather:
NOAA weather radio
Flashlight and extra batteries
Emergency supply of food and water
Emergency heating equipment able heat at least one room
Keep your furry friends in mind during cold snaps too by making sure pets have adequate shelter or are kept inside with you.
You're probably already planning a few trips for the holidays, but before you go make sure your car is ready for winter. Then prepare for any scenario, like being stranded with your car, or even walking to nearby shelter. The following items can help you stay safe:
Blanket and coat
Flashlight and extra batteries
First Aid Kit
Water and nonperishable food
Ice Scraper
Cell phone charger
You should always keep an emergency kit in you car
, but it's very important that you check the forecast for places you'll be travelling through as well. Download the Live Alert 19 app so you can stay up to date on the latest forecast, receive alerts, check the radar, and more.
Know Your Advisories, Watches, and Warnings: The number of advisories, watches, and warnings relating to winter weather can be overwhelming, so go ahead an familiarize yourself with them now.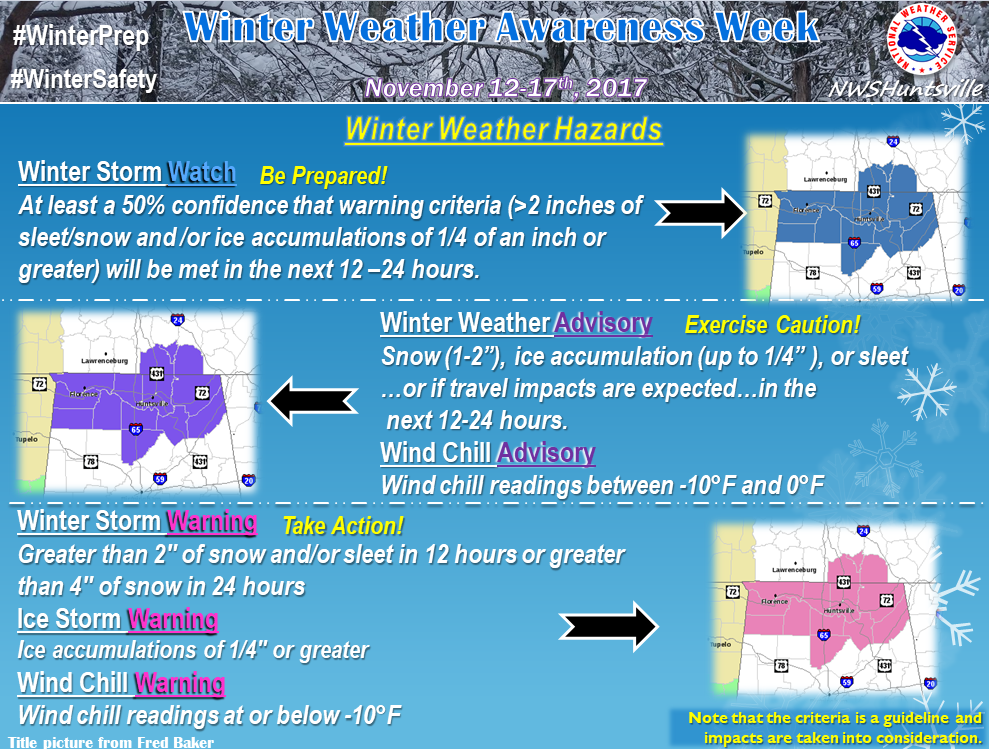 Advisories:
Winter Weather Advisory – 1″ to 2″ of sleet/snow, ice accumulations up to 1/4″ or travel impacts expected in the next 12 to 24 hours.
Wind Chill Advisory – Wind chill readings between -10°F and 0°F expected
Frost Advisory – Temperatures between 33°F and 36°F expected.
Watches:
Winter Storm Watch – At least a 50% chance of 2+ inches of sleet/snow accumulations OR ice accumulations of 1/4 inches expected in the next 12 to 24 hours.
Warnings:
Winter Storm Warning – Greater than 2″ of sleet/snow in 12 hours OR greater than 4″ of snow in 24 hours OR blizzard conditions are expected

Blizzard Conditions – At least 2 inches of snow AND sustained winds of 35 mph or greater for 3 or more hours.

Ice Storm Warning – Ice accumulations of 1/4″ or greater
Wind Chill Warning – Wind chill readings at or below -10°F
Freeze Warning – Temperatures at or below 32°F for 3 or more consecutive hours (during a season in which this is not typical, such as fall or spring)