This is an archived article and the information in the article may be outdated. Please look at the time stamp on the story to see when it was last updated.
A slow-moving storm system drags rain back into the picture on Wednesday, and that same system could even create a wintry mix in North Mississippi and West Tennessee. While some minor accumulations of snow, sleet and freezing rain are possible there, we expect mainly a cold rain that could end as a few snowflakes in North Alabama and Southern Middle Tennessee late Wednesday into early Thursday.
Rain begins Wednesday morning: starting as showers, getting heavier and becoming more widespread between 10 AM and noon. As much as 0.5" to 1.0" of rain may fall on average with some locally-higher amounts in Northeast Alabama. Wednesday just looks rainy and cold: temperatures in the 40s all day with a north breeze making it feel like the 30s. Once the clouds, rain, and few flurries finally move out of the picture, we do see some warming going into the weekend. Don't get too excited, though! It's still cooler than normal for November.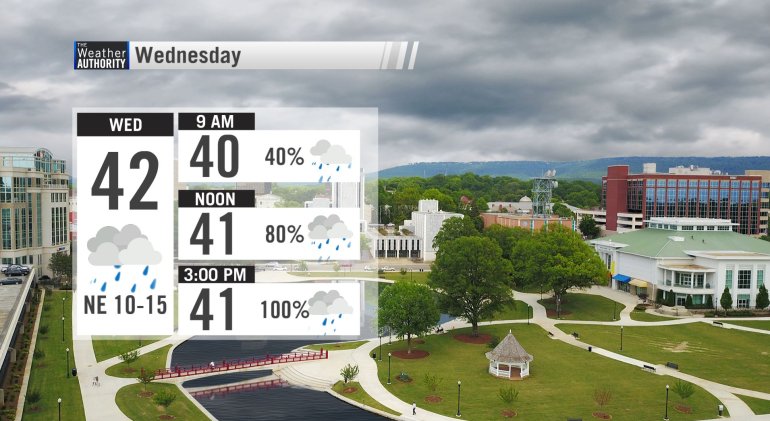 Snow or no? Wishing for some snow? You may need to travel north and/or west to see some that actually accumulates, but we could see a few flakes flying around here late Wednesday into Thursday. There are two main reasons that we don't foresee a major snow: (1) lack of moisture when the air finally gets cold enough and (2) very warm ground. Air temperatures also stay near or just above 32ºF until Friday morning, so there is very little risk of any travel headaches in North Alabama and Southern Tennessee with this round of wet, cold, possibly wintry weather.
Forecast 'surface' temperatures (pavement surface) as the rain briefly changes to a mix or snow would still be in the upper 30s and won't have time to drop significantly before precipitation ends and a cold northwest wind dries us up on Thursday.
Looking for the forecast? It's always online at WHNT.com/Weather and in the "Daily Forecast" section on Live Alert 19!
-Jason
Connect with me!
Facebook: Jason Simpson's Fan Page
Twitter: @simpsonwhnt