This is an archived article and the information in the article may be outdated. Please look at the time stamp on the story to see when it was last updated.
The first half of October was the fifth-warmest start of any October on record in Huntsville since 1907; the average  daily temperature was a whopping 72.0ºF.  May and September average temperatures are usually right around that level for some perspective!
Now that it's finally started feeling like the month we're actually in, it's time to talk winter.  Old weather lore dating back generations gives us some conflicting answers on just how cold or snowy or warm or rainy it will be from December to March.
The Persimmons: This is probably my favorite one of all because you've got three possibilities: a spoon (snowy and cold), a knife (cold & windy but dry), or a fork (mild/warm and rainy winter).
Last year we had a lot of knives and forks (flashback to 2016's Persimmon Seed Forecast): the winter ended up a lot warmer than 'normal.'
This year's seeds are coming up spoons for a lot of people!  It's good news for snow-lovers, but temper your excitement: it's more of a fun activity than a real scientific forecast.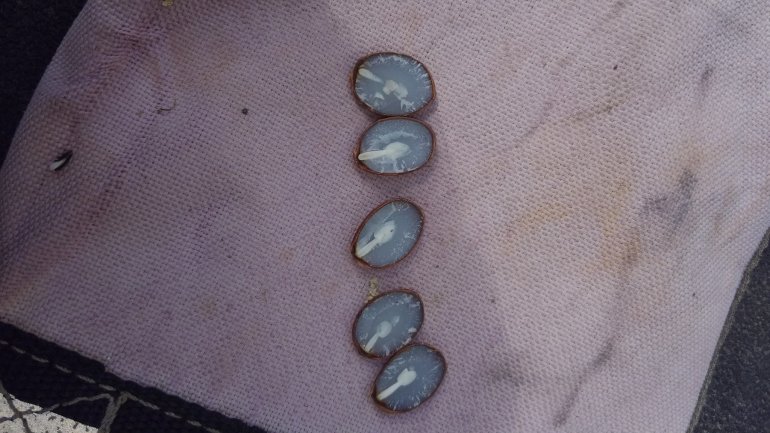 The Hornet's Nest:  This one is debatable.  Some will say the lower that hornets and wasps build nests, the less snowy the winter will be.  There are some who have heard it the other way around, but the most commonly accepted version of this weather lore is what you see here.
Roger Allen of Skyline found this hornet's nest at ground level and shared it with us. In the comments below the shared photo, there are other accounts of people mowing over them this season. In other words, there are many of them low to the ground this year which would lean toward a cold but dry winter.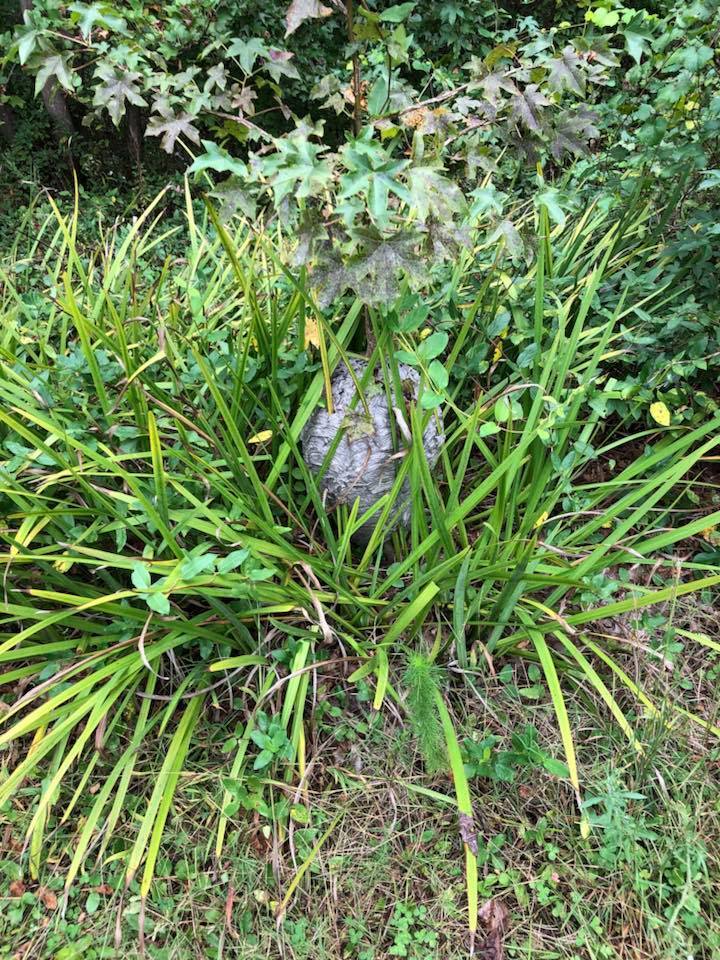 What do the 'wooly worms' say? This is the most commonly discussed bit of weather lore I know of in the Fall. Are the worms brown, black, a mix? How wide is the brown/orange band? What does it mean?
First of all, this is what the actual 'wooly worm' (wooly bear caterpillar) looks like.  Angela Rudolph found this one near Pisgah on Tuesday.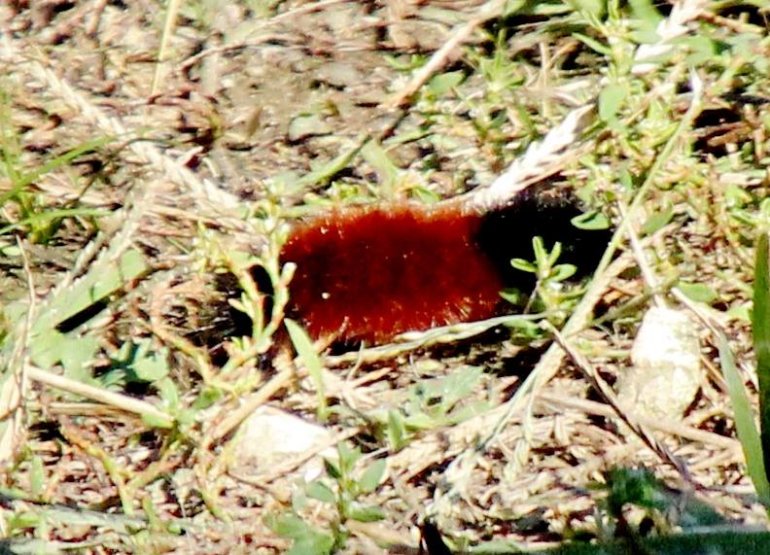 The wider the brown stripe, the milder the winter.
If you see one that is all black, it's not a wooly bear. That's a giant leopard moth caterpillar, and it doesn't fit the weather lore to call for a disastrously cold, stormy winter.
If you see one that is all brown/reddish-orange, it's also not all wooly bear. That's a yellow bear caterpillar, and it doesn't truly fit the weather lore to predict shorts and t-shirts in January (although around here, that's about as likely as anything).
What do the weather folk say?  A winter forecast can be really simple to do if you don't try to go into detail.  A normal winter for us in Alabama and Southern Tennessee could be described as cold at times between periods of warmer weather.  Occasional rain, a few waves of severe storms, and there's almost always a threat of either snow or ice once or twice in a season.
Huntsville averages 2.4″ of snow in the December to March 'winter' season.  In 103 years of generally-reliable data, Huntsville has ended up with a wide range of seasonal snowfall totals:
Less than 1″ in 56 winters (54% of winters)
More than 2.4″ in 39 winters  (39% of winters)
Zero snow to a small trace in 26 winters (25% of winters)
Meteorologist Christina Edwards discussed last week how La Niña could influence the winter season here on WHNT.com.
That's not the only factor to consider! There's a lot of model guidance out there that brings the cold in big waves from next week through November, backs it off in December, and then floods us with colder-than-normal weather again in January and February.
Over-all, this is probably going to be a 'normal-ish' winter for the Tennessee Valley: less than 2″ of snow, a few nights with lows dropping into the 10s and 20s, and a day or two in which the highest temperature stays close to or below freezing.
The biggest factor will be where the large-scale ridges and troughs set up within the jet stream. The latest 4-day average of the CFS (Climate Forecast System) modeling gives cold and snow lovers some hope for a colder-than-average and *maybe* a snowier-than-average winter.  Even though the South is covered in red (usually a signal of greater influence from a warm 'ridge' in the jet stream), this is a good set-up for quick shots of cold air and a zone of consistently 'stormy' weather (rain, wintry, or even strong storms).
So while it may 'average' out to be normal, there's definitely some hope there for at least one substantial winter storm and several shots of Arctic air that will leave a lasting impression.
Now, the details of all this?  Which days are warmer?  Which days are colder?  And which days will cause school closures (trick question – just the mention of snow as a possibility already has schools closed until after the final frost of the season – kidding but not kidding).
That's where the fun of a seven day forecast shows up!
Details are impossible at this point.  We see the patterns lining up, but this is what one ensemble suite made up of 50 individual members suggests for Huntsville through the first of December.  Look closely and you'll see a few of them pushing temperatures as low as 10ºF!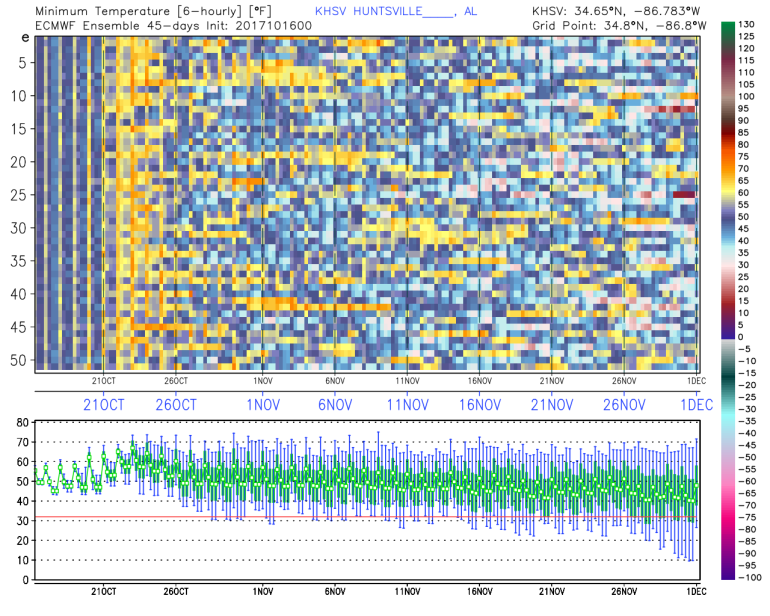 That may be a little extreme, but we do see the potential for a cold November, a warmer December, and then multiple shots of very cold air between periods of above-average warmth in January and February.
-Jason
Connect with me!
Facebook: Jason Simpson's Fan Page
Twitter: @simpsonwhnt