This is an archived article and the information in the article may be outdated. Please look at the time stamp on the story to see when it was last updated.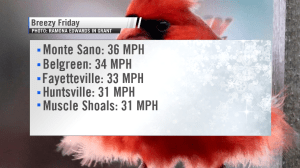 It's hard to call it a "wind storm" since it wasn't all that stormy, but it sure was windy over a large part of the Eastern United States Friday!
Peak wind gusts around the Tennessee Valley paled in comparison to the high winds to our north.
Just north into Middle Tennessee, it was much more significant.
Windy out there! As of 11am, peak wind gusts have been 49 mph at #Clarksville & 45 mph at #Nashville! #tnwx pic.twitter.com/ZHfYa7dmC8

— NWS Nashville (@NWSNashville) February 19, 2016
PUBLIC INFORMATION STATEMENT
NATIONAL WEATHER SERVICE NASHVILLE TN
308 PM CST FRI FEB 19 2016

...PEAK WIND GUSTS FOR FRIDAY FEBRUARY 19 2016...

LOCATION       PEAK WIND GUST    COMMENTS                   
                   /MPH/   

CLARKSVILLE           49         AIRPORT ASOS
NASHVILLE             45         AIRPORT ASOS                
SMYRNA                40         AIRPORT AWOS              
CROSSVILLE            38         AIRPORT ASOS
COLUMBIA              38         AIRPORT AWOS
SHELBYVILLE           38         AIRPORT AWOS

Yes, 49 miles per hour in Clarksville, Tennessee is about as strong a wind as you'll get in these parts – even in windy thunderstorms.  That's not "severe," but it's enough to get your attention.
It was even worse up around Chicago.  WGN's Live Blog shows a lot of wind damage photos and tells some interesting stories about how the high winds impacted the high rises in the city.
Gary Airport gusted to 70 mph as of 2:45 pm CST. Nearby in Thornton IL, anemometer recorded gust to 72 mph. #ilwx #inwx

— NWS Chicago (@NWSChicago) February 19, 2016
https://twitter.com/WGNErik/status/700811623204675585/video/1
https://twitter.com/WGNNegovan/status/700824164916142080
The windy weather settles down on Friday night and Saturday.  Then, we've got some rain coming in!  See the video for more about why the wind was so strong and what you can expect with the wetter weather ahead:
-Jason
Connect with me!
Facebook: Jason Simpson's Fan Page
Twitter: @simpsonwhnt