This is an archived article and the information in the article may be outdated. Please look at the time stamp on the story to see when it was last updated.
HUNTSVILLE, Ala. – The National Weather Service in Huntsville has posted a wind advisory for the higher terrain in northeast Alabama and southern Tennessee.
While it will be a windy day all across north Alabama and southern Tennessee, the wind advisory only includes Franklin, Lincoln and Moore Counties in Tennessee; and DeKalb, Jackson, Madison and Marshall counties in Alabama. This is because on the ridges in these areas, the wind may gust over 35 miles per hour at times Thursday afternoon.
The advisory begins at Noon and lasts through 9 p.m.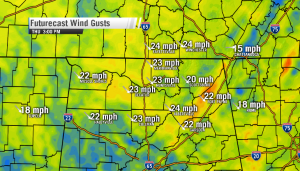 Within the advisory area, expect northwest winds to be sustained between 20 and 25 miles per hour all afternoon. Outside the advisory area, sustained wind speeds will average between 12 and 22 miles per hour, with occasional gusts around 25.
The gusty winds are due to a strong pressure gradient between Wednesday night's cold front (which is now south of us) and a strong area of high pressure building in from the northwest.
With the cold front south of the area, there is no threat of rain through the rest of Thursday or Friday.
Looking for the New Year's Eve forecast? Click here to jump over to our forecast discussion page.