This is an archived article and the information in the article may be outdated. Please look at the time stamp on the story to see when it was last updated.
There's a cold front headed in, and that means some rain Friday night and Saturday morning before the colder air takes over for the weekend.
Frost likely, a freeze possible too: Cold, dry air and a light wind early Monday morning give us a chance of some frost and a light freeze. Expect as many as 3-6 hours of subfreezing temperatures between midnight and 6 AM in the usual cold pockets (Russellville, Fort Payne, Winchester, Meridianville, etc.).
Lows range from 27ºF in the cold spots to around 37ºF in Downtown Huntsville and near the main body of Lake Guntersville.
We will have another cold one Tuesday morning with some scattered frost and a chance of a light freeze again: lows around 29-39ºF.
Warmer then stormy: The normal range of temperatures in March is pretty wide; we tend to focus on a single number like an "average" high of 64 degrees, but that does not tell us what the norm really is around here.
The standard deviation (scary math term for normal variability) in temperature for Huntsville in March is about 10-11 degrees. In other words, it's not all that uncommon to have days in the 70s followed by days in the 50s followed by more days in the 70s.
With that in mind, we see a rapid warm-up coming next week: from the 30s early Tuesday morning to near 70ºF by the afternoon. A stiff south-southwest wind drives out the cold and ushers in the warmth.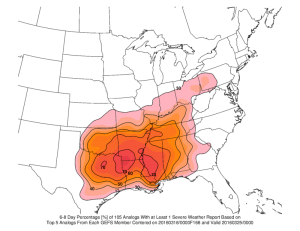 A potent storm system develops Wednesday into Thursday over the Southern Plains and comes eastward Thursday night into Friday.
Rain is likely late next week; the jury is still out on a significant severe weather threat, though. It's something we will monitor and keep you posted about through the next several days.
Trends in model guidance and the analogs (pictured) do give us some reason to believe a risk of strong to severe storms will exist from Texas east to Alabama and Tennessee from Thursday into Friday of next week.
What we cannot know at this point is how all of the individual factors will play out; don't be concerned about this yet, but do be aware that there may be some stormy weather on the horizon in the next 6-7 days.
Stormy or not, it's always good to know how to get weather information when you need it:
How to Program a NOAA Weather Radio
WHNT.com's Maps & Radar Page
Mobile Applications
Baron Saf-T-Net (phone/text)
-Jason
Connect with me!
Facebook: Jason Simpson's Fan Page
Twitter: @simpsonwhnt