This is an archived article and the information in the article may be outdated. Please look at the time stamp on the story to see when it was last updated.
Once in a while you run into a group of students so smart that you just can't trick them.  These second graders from Whitesburg Christian Academy played that role Friday! Here's the video from WHNT News 19 at 5:
This is the first slide I show most school groups I visit.  Before I ask them what it is, I ask them if they know what 'perspective' means.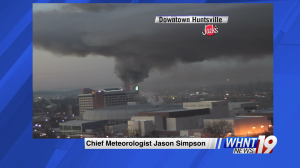 My second grade pals at Whitesburg Academy know what perspective is and saw the trick coming; they told me it was smoke - not a tornado!
That simple exercise shows a lot about how students think and what frame of mind they're in at the moment.  It's impressive that they were ready for a trick after lunch on a Friday afternoon!
Thanks for letting me come spend some time with you all!
Want Us to Visit Your School? It's fun for us to get out of the office and visit with schools and social groups. Feel free to contact us through the following link (or through my social media contacts below) to set up a time for one of us to visit with your group! WHNT News 19 Request an Anchor.
-Jason
Connect with me!
Facebook: Jason Simpson's Fan Page
Twitter: @simpsonwhnt