This is an archived article and the information in the article may be outdated. Please look at the time stamp on the story to see when it was last updated.
Scattered storms cannot get the job done for everyone; we need more widespread soaking rain to really put a dent in the drought! The chance of showers and storms for the rest of the week looks similar to how it's been the past few days: some with a lot, a lot with a little.
And some have had next to nothing lately.
Steve Steele in the Penn Community west of Danville sent this photo of Dutton Creek on Tuesday.  He says that area had only 0.4″ of rain since early July until another 0.2″ fell Tuesday morning.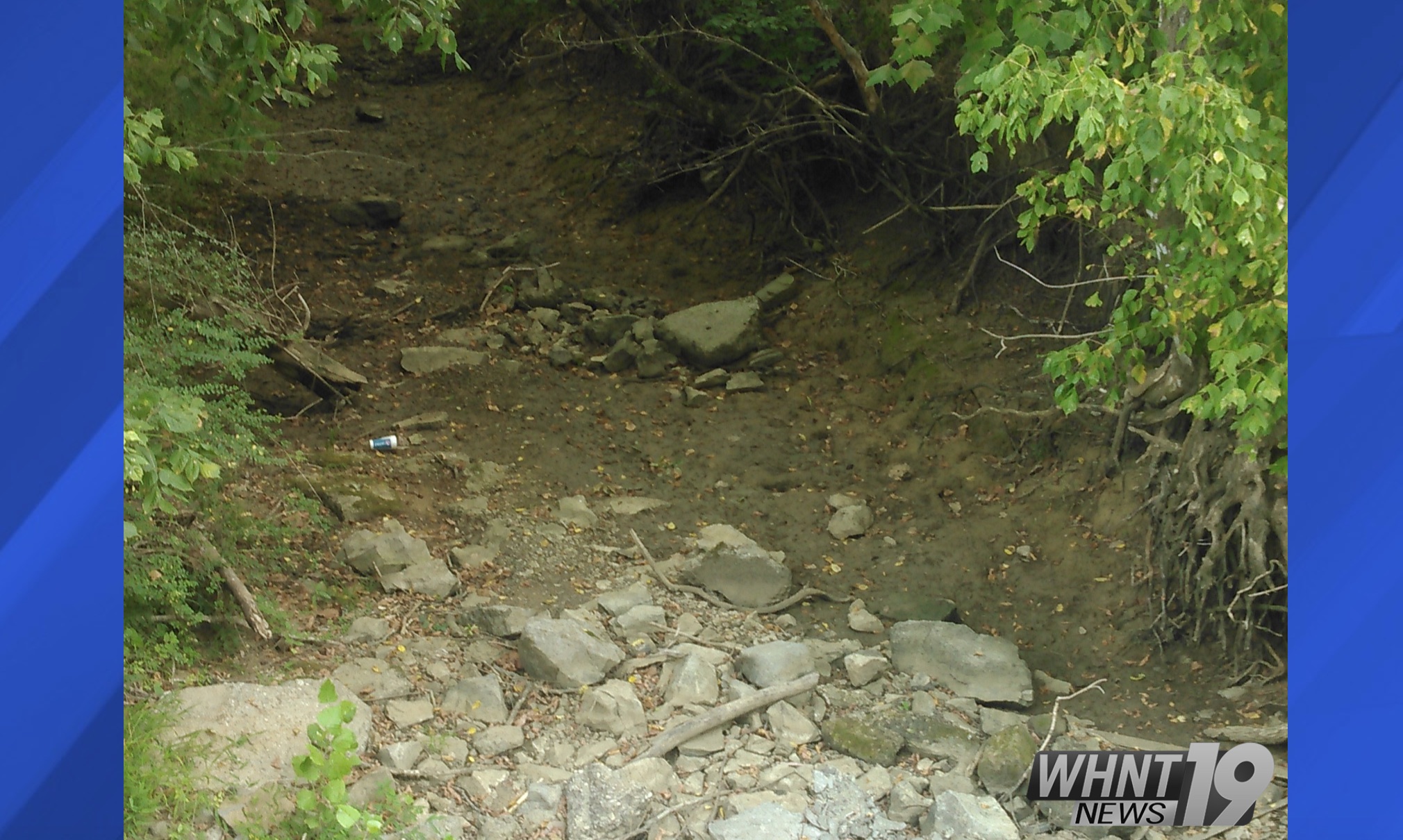 Tuesday has been another one of those days; Crossville got 0.49" through early afternoon, Huntsville International got 0.06" through 2 PM, and a lot of communities saw nothing at all. Showers thin out this evening, but this same pattern comes again for Wednesday, Thursday and Friday: hot, muggy days with occasional, spotty showers.  There's a small chance of some light, spotty showers for the bus stop/morning commute; the better chance comes in the afternoon and evening generally south of US 72 (Shoals-Athens-Huntsville-Scottsboro).
Stay ahead of the scattered downpours with WHNT.com's Interactive Radar or swipe over to the radar feature on Live Alert 19!
Updated rainfall expectations: Remember over the weekend and even Monday afternoon when model guidance (and NOAA's WPC) projected 3-5" of rain through the weekend? That's still possible in isolated spots; however, most of us can temper those expectations a lot now that the situation is becoming more clear. A general expectation of 0.5" to 1.5" seems in the ball park; isolated amounts (where two or three heavy downpours happen to pass overhead) could exceed four inches through the weekend.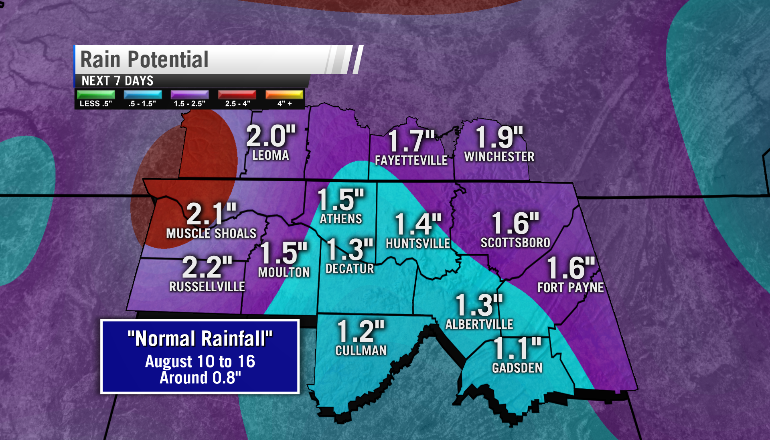 This is a very "scattered" rainfall set up; that means the showers come, but there are gaps between them where no rain falls at all.  (See the day-to-day specifics here on WHNT.com/Weather!)
The first eight days of August tell the story pretty well. Fayetteville, Tennessee has 7.97" since the first day of the month. Harvest has 1.62" so far, and one report near Smith Lake in Cullman County shows only 0.79" through yesterday. It's uneven, it's unfair, but it's the way these set-ups work.
In other words, the odds of getting/not getting rain are just about even with this pattern.  Don't cancel your plans to work outdoors, practice outdoors, or play outdoors; just be flexible and ready to take cover if a heavy downpour moves your way.