This is an archived article and the information in the article may be outdated. Please look at the time stamp on the story to see when it was last updated.
This dry November may not be 'unprecedented,' but it's definitely unusual. Most of us stay bone dry for another two days before the next chance of rain; even then, the odds of a true November-style soaking are so low you could step over them.
Expect another chilly night with some scattered frost: lows 35ºF (cold spots) to near 40ºF in the middle of town. Tuesday shapes up as another dry, pleasant day! Look for sunshine, a stiffer southeast breeze, and an afternoon high in the 65ºF to 70ºF range. Clouds thicken, and some showers are possible as early as Wednesday. Our next real 'chance' of some rain is Thursday with a weak front passing through the region.
No Rain November: Huntsville International Airport shows a 3.50" rainfall deficit on the month. The 0.85" so far makes it the fifth-driest November on record; however, we still have a surplus of 1.10" on the year because of very wet weather in January, May, June and July.
Thursday's rainfall potential is low. We show a 40% chance of getting at least 0.10" of rain. That kind of rainfall should be a slam dunk in November, but this year is just different.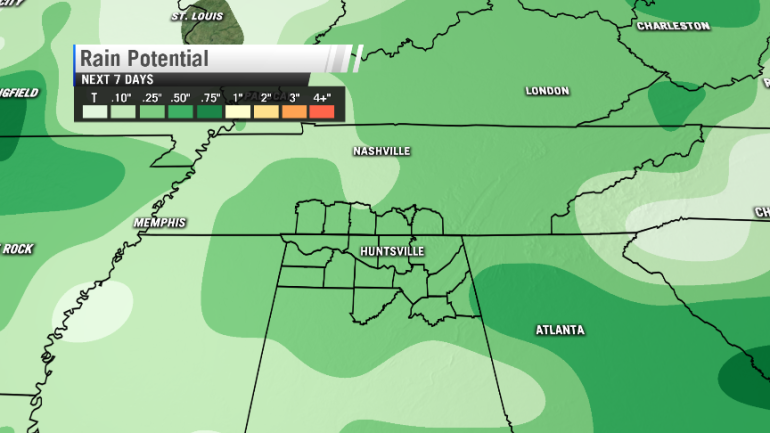 Two of the contributing factors would be these things: limited Gulf of Mexico influence and a La Niña in the Pacific helping to reduce the strength of the southern branch of the jet stream.
Following Thursday's meager rain, the next decent chance comes in the Tuesday-Wednesday time frame of next week: early December.
December to remember? If you've been around Alabama and Tennessee since the late 80s, you probably remember the extreme cold before Christmas in December 1989. It was cold enough to freeze ponds solid and cause a huge drain on the power grid. On December 22, 1989, Huntsville had a high of NINE and a low of THREE BELOW ZERO: over-all almost 40ºF below normal on the day!
That's perspective on how cold it probably won't get this December; however, the pattern evolving from around December 10th through Christmas does have some resemblance to that bitterly cold December of '89 (coldest on record) as well as some others like 2010 (11th coldest), 2005 (18th coldest), and 1995 (25th coldest).
It is going to get cold and stay cold for while, but we've got some mild weather to get through over the next two weeks before it gets here!
How cold will it get?  That won't be clear for a while, but it wouldn't be at all unreasonable to expect the over-all daily temperature to be as much as 5ºF to 10ºF below normal from around the 10th to the 25th.  That doesn't sound like much, but trust me, it's cold.
Need some specifics about the weekend or next week? They're always online at WHNT.com/Weather and in the "Daily Forecast" section on Live Alert 19!
-Jason
Connect with me!
Facebook: Jason Simpson's Fan Page
Twitter: @simpsonwhnt