This is an archived article and the information in the article may be outdated. Please look at the time stamp on the story to see when it was last updated.
The days are getting longer, and the temperatures are slowly creeping higher into the upper 70s to low 80s. Many of you have already spent an afternoon or two lounging by the pool or fishing on the lake, and it won't be long until it's warm enough to hop in for a swim.
We know what you're thinking: When will the hot weather begin?
Earliest 90 degree day on average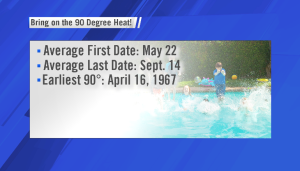 For many, the word "hot" tends to describe temperatures that are in the 90s or higher. It's a good threshold for when jumping in a pool or the lake is refreshing, rather than cold.
In Huntsville, the earliest 90 degree day occurred on April 16, 1967, making for a very hot spring! On average, though, the first 90 degree day tends to occur on or near May 22.
Any 90 degree  days in the short-term forecast?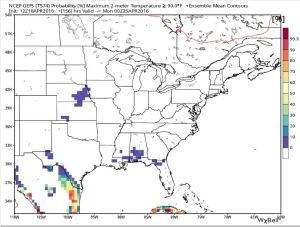 Over the next 8 to 14 days, the Climate Prediction Center indicates that abnormally warm temperatures are expected for much of the Southeast, including the Tennessee Valley. Long-range models suggest that 80 degree temperatures will become more likely through the last week of April and the first week of May.
(MORE: Valley Weather forecast discussion)
However, 90 degree temperatures are not highly likely over the next two weeks. There is a 10-20% chance that south Alabama may experience temperature at or above 90 degrees on Sunday, April 25.
In contrast, Tennessee Valley will have to wait until May 1st for it's earliest chance at a 90 degree day — even then, the probability remains low.