This is an archived article and the information in the article may be outdated. Please look at the time stamp on the story to see when it was last updated.
The Storm Prediction Center outlined a risk of some strong to severe storms for North and Central Alabama as well as Southern Tennessee for Saturday. Two waves of stormy weather move this way: one Saturday morning and another one late Saturday evening.
Saturday morning's storms are most likely south of the Tennessee Valley: Central and South Alabama get the brunt of the action. As that first wave passes, some showers and general thunderstorms are possible around the Valley; however, the main threat of severe weather would likely remain south of Hamilton, Cullman, Albertville and Gadsden. It warms up to near 70ºF Saturday afternoon, and as a very dynamic storm system moves closer Saturday night, more storms develop.
What to expect from weekend storms: Let's boil this down to the simplest terms possible. Yes, we do expect a lot of rain and thunderstorms. Yes, a few may be strong or severe. Yes, the storms are close enough that they could end up a bit further north than modeling shows at this time.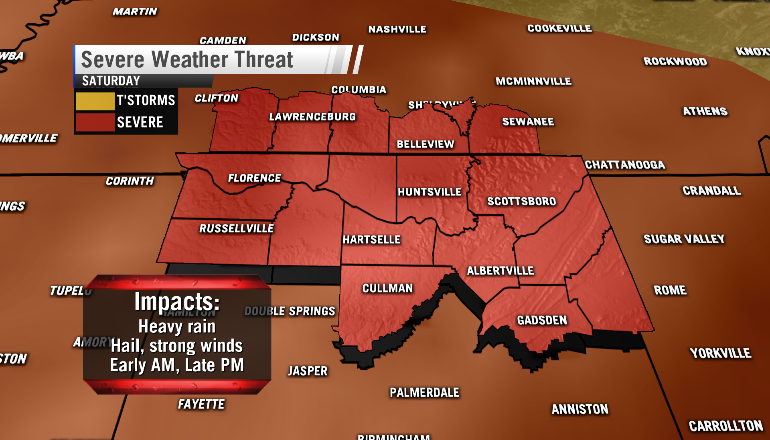 You should be on alert for active storms, but don't cancel your plans in North Alabama or Tennessee. We have the technology today to be in touch and let you know if that "could end up a bit further north" turns into a "definitely rolling through here." Get alerts and track heavy storms with WHNT.com's Interactive Radar or swipe over to the radar feature on Live Alert 19!
Timing: two waves of heavy rain and thunderstorms are possible.  The first comes through between 5 AM and 10 AM Saturday; most of those storms will stay south of US 278 from Hamilton to Gadsden.  We'll be watching them anyway.  The second wave comes in late Saturday night into Sunday morning between 11 PM and 5 AM.  In both cases, the greater risk of severe weather will be south of the Tennessee Valley.
Impact: in North Alabama, the greatest impacts will come from rain, gusty winds in stronger storms, and large hail.  The storms coming in late Saturday night will have potential for large hail and strong winds; the greater tornado threat would be in southeastern Alabama, southern Georgia and Northwest Florida.
Storms end Sunday morning, but showers (occasionally heavy) continue through Sunday night and Monday underneath this sprawling, slow-moving storm system.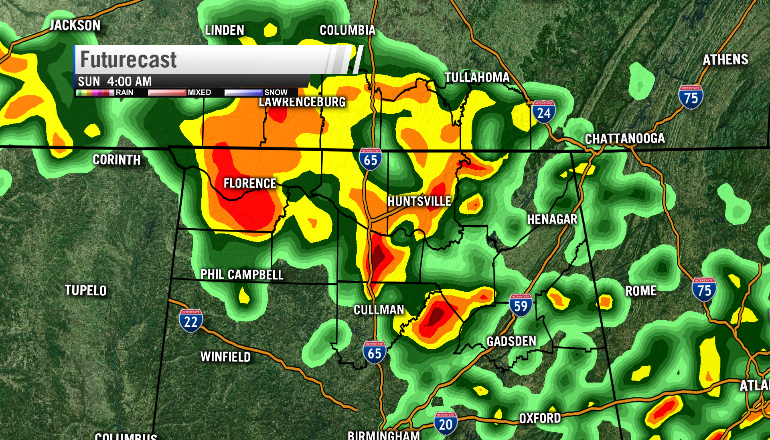 Rain-wise, we're expecting as little as a half-inch of rain in some communities to as much as 1.5″ in other spots (mainly near Sand, Lookout and Brindlee Mountains) from Saturday morning to Sunday evening.
It may not totally break the drought for every community, but this will certainly help get us moving the right direction.
Looking for more forecast info? It's always online at WHNT.com/Weather and in the "Daily Forecast" section on Live Alert 19!
-Jason
Connect with me!
Facebook: Jason Simpson's Fan Page
Twitter: @simpsonwhnt