This is an archived article and the information in the article may be outdated. Please look at the time stamp on the story to see when it was last updated.
It's not as cold tonight, so it won't be frosty Wednesday morning.
In fact, the lowest temperatures in even the cold spots will be well above the past few mornings: mainly in the lower and middle 40s.
There is a chance of some rain Wednesday, but it's not going to amount to much in most locations around here.
We have lowered the chance of measurable rain to 40% in Huntsville and Decatur, so the best chance of measurable rain is primarily over northwestern Alabama and Tennessee.  Most of it will fizzle before making a big impact east of Huntsville and Decatur in Marshall, Jackson, DeKalb, Etowah, Blount and Cherokee Counties.
Track showers around the region whether you're traveling or at home with WHNT.com's Interactive Radar or swipe over to the radar feature on Live Alert 19!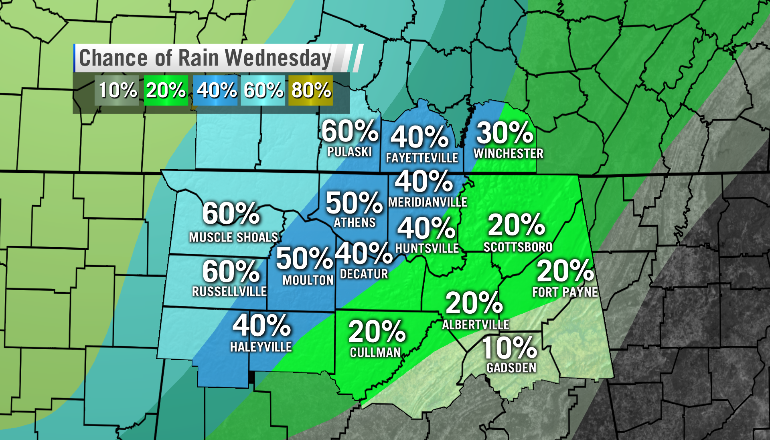 A wetter pattern setting up:  This drought took a while to develop, and it's going to take a while to get out of it.  There is some good news, though, in that the weather pattern is looking a lot wetter for the next two weeks!  How wet?
I posted this guidance Monday night, and it raised some eyebrows!
Some model guidance continues to suggest as much as 3 to 6 inches of rain could fall in the next 16 days; that's not a very likely situation, but it's not totally impossible.  The latest GEFS ensemble guidance puts our odds of at least TWO INCHES of rain at around 70-80% through December 8th.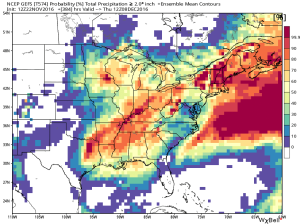 It won't all come at one time, but we see the southern branch of the jet stream cranking up and setting up a stormier weather pattern for the Tennessee Valley region in the next two weeks.
The first round of showers in that more active pattern comes Wednesday (it won't make a difference).  There's another chance of some heavier rain on Monday of next week, another system Wednesday-Thursday of next week, and yet another one the first week of December.
These could all be busts; in other words, there are no guarantees that the heaviest rain actually falls in any one spot.  It's hope, but it's not necessarily the "end" of the dry weather.
For what it's worth, we still expect below-average rainfall through most of December, January and February.  It just won't be as desert-like going forward as the weather pattern starts favoring more rain and less prolonged dryness.
-Jason
Connect with me!
Facebook: Jason Simpson's Fan Page
Twitter: @simpsonwhnt