This is an archived article and the information in the article may be outdated. Please look at the time stamp on the story to see when it was last updated.
The 'warm-up' we see coming for Thursday and Friday is less 'warm' and more 'less cold.' Temperatures rise into the 45-50ºF range Thursday afternoon; clouds thicken in the afternoon, and those clouds will keep us from a third-straight freeze Thursday night. Clouds get even thicker Friday, and while some spotty showers could develop early in the day, the best chance of rain Friday comes late – after 7 PM through the nighttime hours. Saturday looks like a soaking wet, cold day, and it will be close – very close – as we watch for a transition to a wintry mix over the weekend.
Weekend specifics: One thing is sure about the weekend: it's going to be cold and wet. There are some other fine details that still need to be worked out, but you can count on it being wet and cold. Temperatures hover between 35ºF and 45ºF all weekend long, and there's a good chance it will be raining and/or snowing at just about any time on Saturday and Sunday.
A strong storm system spins up an area of low pressure along a cold front near the Gulf Coast Friday to Sunday. It's in a climatologically-favored position to produce a big-ticket winter storm in the region (not necessarily right here at home, though).
In North Alabama, we are literally about 1-2ºF too warm for all snow at 3,000' to 6,000' above the ground on Saturday and most of Sunday. That's about as close as it gets, and it's definitely within our forecast model guidance's margin of error.
Could we still see more snow than expected as of Wednesday afternoon? Yes. It's very possible. How likely is it? It's still not highly likely that we'll get more than snowflakes falling to a fraction of an inch by Monday. If the odds start to tilt in favor of snow, you'll see it reflected in the forecast and won't be able to miss it. It will be obvious.
*A note about models like this one below*  You may see this floating around in your timeline on social media.  It's AS LABELED here: one model's opinion of how the snow could accumulate.  The problem with this is that the model is basing the accumulation on some constants that are assumed and not 'forecast.'  That can lead to some wild forecast vs. reality discrepancies.  If you use this as a forecast only, be warned – it's one computer model's guess.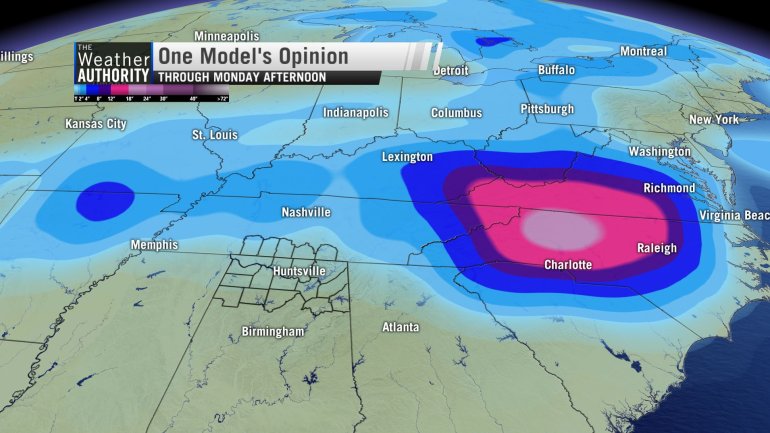 In other words, if this is the last time you see the forecast before Saturday and Sunday get here, you're doing it wrong. It can be, needs to be, and will be adjusted as the situation becomes more clear.
After the wet/wintry mess: Snow showers likely continue into Monday with little or no major accumulation, and it stays cold. We'll barely make it to 40ºF Monday afternoon, but some 50s (and maybe a few 60s) are on the table toward the middle and end of next week.
Looking for the forecast? It's always online at WHNT.com/Weather and in the "Daily Forecast" section on Live Alert 19!
-Jason
Connect with me!
Facebook: Jason Simpson's Fan Page
Twitter: @simpsonwhnt