This is an archived article and the information in the article may be outdated. Please look at the time stamp on the story to see when it was last updated.
A light, pesky rain and dampness sticks around overnight, and the temperature does not fall all that much: holding steady in the mid-40s early Tuesday morning.
Showers move out before noon leaving us dry and cold in the afternoon; in fact, temperatures go the wrong way: ending up in the upper 30s at the time our normal afternoon 'high' would occur! The wind chill will make it feel much colder: 'feels like' temps around 27ºF to 34ºF between noon and 6 PM. Rain moves in again on Wednesday, and there's still a chance that some snowflakes could fall as all of this wet weather wraps up on Thursday.
Beneficial rain: Here are some of the rainfall totals through 2 PM Monday:
1.88" in Falkville
1.83" in Albertville
1.48" in Madison
1.39" in Scottsboro
1.27" in Wright (Lauderdale Co.)
0.97" in Athens
Only 3% of Alabama was considered 'Abnormally Dry' in last week's US Drought Monitor report; two significant rounds of rainy, stormy weather likely wipe the state clean of any drought conditions whatsoever in the report due out this week.
Showers continue, ending as snow? Forecasts this time of year are very adjustable because the weather pattern - as fast-paced as it is - can sometimes break larger storm systems into two waves. That's what happened with this week's weather. What appeared to be one large 'wave' (trough) moving through the region with flurries behind it has now become a two-parter. The 'main' wave passed through as expected. The 'secondary' wave is essentially a little piece of the trough (a pocket of colder air aloft) that got cut off from the main wave. That smaller piece of the storm system moves toward us Wednesday bringing back widespread rain by afternoon and evening.
That rain lasts through Thursday morning, and if it can get cold enough, some snow is possible especially across Middle Tennessee. We may well see some snow showers in North Alabama, but temperatures stay above freezing and relatively warm ground temperatures should prevent any 'significant' accumulation. In other words, snowflakes? Yes. Big snow? Probably not.
Drier days ahead: Waterlogged from all the rain lately? Huntsville already had 250% of normal November rainfall-to-date through Monday afternoon, and more rain comes this week: possibly another half-inch on the low end to as much as 1.5 inches on the high end Wednesday and Thursday.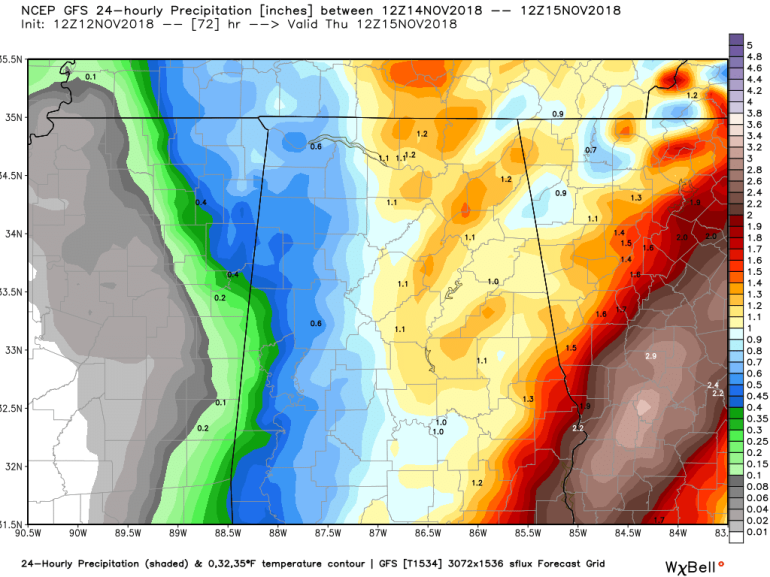 Drier weather begins Friday! Temperatures stay on the low side of normal: highs in the 50s, lows in the 30s through the weekend and first part of next week. That's 'average' for late November/early December.