This is an archived article and the information in the article may be outdated. Please look at the time stamp on the story to see when it was last updated.
We were spoiled with one fantastic, perfect weekend of weather last week — but once again, rain will crash the weekend party!
It may not rain every second of every minute of every hour this weekend, but it sure looks like we will have occasional, on-and-off showers for most of the day Saturday before they taper off Saturday night.
Saturday washout? Rain begins early in the morning as mainly patchy areas of light rain; it grows in coverage and gets heavier through midday and early afternoon. What once looked like a pesky 'light' rain earlier in the week is now looking more like something that will have a major impact on outdoor events. As much as 1/2" to 1" of rain will fall during the day Saturday, and a few leftover showers are possible into Sunday as well.
We will likely experience lightning as well as a few wind gusts that may knock down a tree branch or two. For that reason, the Storm Prediction Center has indicated that a portion of north Alabama should expect a *MARGINAL* risk for severe thunderstorms on Saturday afternoon. A few strong wind gusts over 50 miles per hour are possible in that outlined area.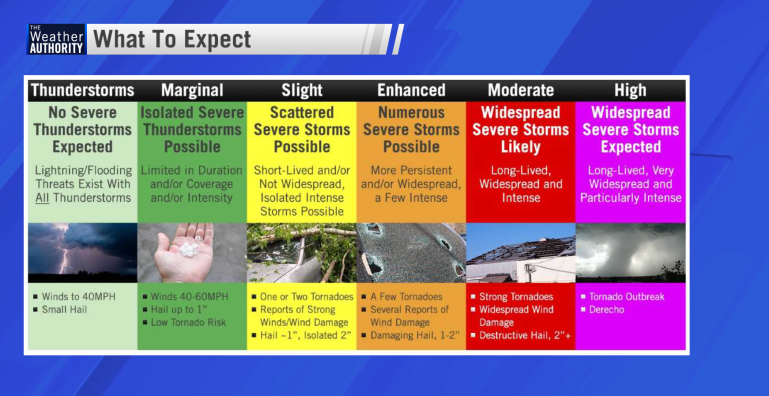 Sunday's showers: Sunday clearly shapes up as the better day of the weekend weather-wise. Other than a small chance of some isolated showers, expect a partly to mostly cloudy sky and a warmer afternoon: highs in the upper 70s. Your odds of rain on Sunday only go up to about 10%.
Some storms possible Monday: Monday is an interesting day. A cold front passes Sunday night, and that usually means the threat of rain and storms ends. This time, we see one more batch of showers and a few isolated storms developing with another push of cool, dry air Monday afternoon. Rain won't be terribly widespread, but a few of the storms may have enough instability to work with (because of cold air above the surface) to produce some small hail and gusty winds.
Warm, more rain next week: Average daytime highs this time of year should be close to 80ºF, and that's exactly where we expect to be for most of next week. Showers thin out Tuesday and Wednesday, but they come back and become more widespread again by Thursday and Friday of next week.