This is an archived article and the information in the article may be outdated. Please look at the time stamp on the story to see when it was last updated.
Expect another warm, muggy night with a chance of more spotty showers; lows only drop to the upper 60s and lower 70s by daybreak Wednesday.  Rain is possible at just about any time Wednesday, but our best chance of a few downpours comes from midday through early evening.
Highs on Wednesday afternoon will depend on how much sun/how much rain your location gets early in the day.  Most of us will be just about where we've been on Tuesday: upper 70s and lower 80s.
Track heavy storms with WHNT.com's Interactive Radar or swipe over to the radar feature on Live Alert 19!
Rainfall this week has been about as expected: very uneven. Officially reported totals since Sunday afternoon range from 3.44″ in Moulton to as little as 0.18″ in Anderson (roughly 30 miles separate the two rain gauges). We get more of the same for the rest of the week: a few spots with 2-3″ more rainfall, a few with next-to-nothing rainfall, and a lot of us in between the two.
Rain chances remain high through Monday: Our rain chance number is a combination of expected coverage and rainfall intensity. A 50% chance of rain for any one spot around here means we're confident that it will rain in the area, but not confident that (1) everyone gets more than 0.1″ and/or (2) it even rains on every backyard in the area.
The odds of measurable rain are high enough that you shouldn't plan on getting a lot of outdoor work done this week or this weekend; however, it will not be impossible! We do see a few hours of dry weather now and then that might work out perfectly for some projects, events, birthday parties, pool parties, etc.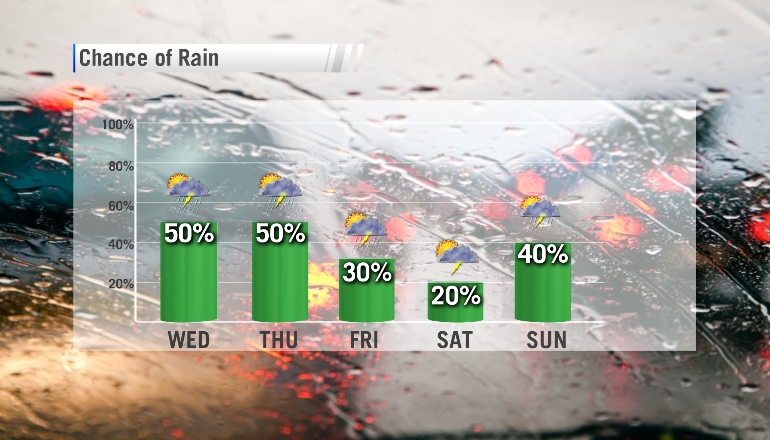 Need some specifics about the weekend or next week? They're always online at WHNT.com/Weather and in the "Daily Forecast" section on Live Alert 19!
-Jason
Connect with me!
Facebook: Jason Simpson's Fan Page
Twitter: @simpsonwhnt