This is an archived article and the information in the article may be outdated. Please look at the time stamp on the story to see when it was last updated.
Updated at 2:54 pm Thursday:
The National Weather Service in Huntsville concluded that wind damage in Morgan County happened in strong, straight-line winds east of the Hartselle area Wednesday evening.  That is not the same storm that produced the wind damage and large hail in the Falkville area.  The Public Information Statement can be found here in full.
Survey Summary:
NWS and Morgan County EMA survey team determined the damage near the
Hartselle area was cause by thunderstorm winds of 60 MPH. Damage was first
observed on Mayfield Road where one softwood tree was snapped and
laying across the road. Damage was then observed approx. 0.7 miles
to the east near the intersection of Blackwood Dr. and Kaylee Loop. Damage
indicators included roof and siding damage to small farm buildings. Debris
from the buildings were blown approx. 100 yards across Blackwood Dr.

There was minor evidence near the Blackwood Dr. damage that would indicate a
small tornado or mesovortex, but the damage assessment determined winds were below
EF-0 criteria.
Original post:
Storms rolled into the Tennessee Valley Wednesday night, producing heavy rain and frequent lightning along the way.
At times, some of the storms were severe, with the more intense cells dropping hail on the ground as well as generating damaging wind gusts.
"When it hit, it was sudden. The windows felt like they were going to blow out," Melissa Long told WHNT News 19. "It was quite eerie. Lights were going on and off like in a horror movie."
Melissa recalls that the storms rolled through Falkville around 7:40 p.m. Wednesday. Below are photos of her damage reports.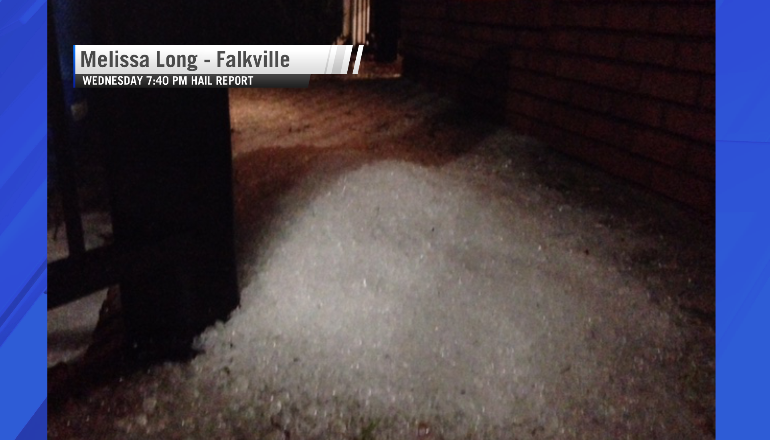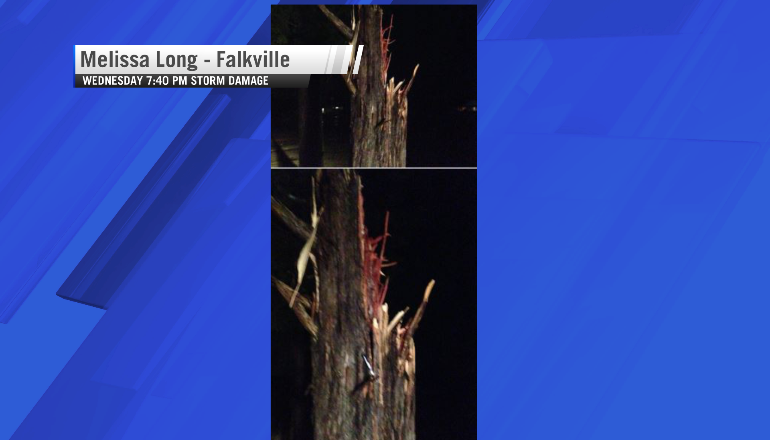 For perspective, the following tweets illustrate dynamic storms that were moving into the Lawrence, Morgan and Cullman tri-county area:
7:19pm C: Hen egg, half dollar sized #hail possible near Morgan/Cullman county line, moving E 35 mph #ValleyWx #ALwx pic.twitter.com/yqo6ihKOm5

— Christina Edwards (@ChristinaWHNTwx) February 9, 2017
7:11pm CT: Per @NWSHuntsville, lightning spike noted on LMA over Lawrence, Morgan, Cullman tri-county area #ValleyWx pic.twitter.com/AZaEMA21KH

— Christina Edwards (@ChristinaWHNTwx) February 9, 2017
Flash rates have increased to around 35 flashes per minute in the Winston co, Cullman Morgan storm. #alwx 704 pm. pic.twitter.com/zGC422IHeJ

— Chris Schultz (@cschultzwx) February 9, 2017
Half-dollar sized hail is possible in SW Morgan County near Mt. Nebo & Falkville. Storm moving toward I-65, US-31 #valleywx @whnt pic.twitter.com/OWZEdB7sy8

— Jake Reed (@realjakereed) February 9, 2017
Cullman/Morgan Co #alwx storm maintaining intensity from the lightning. Note how the lightning pinpoints the most intense updraft. #hunwx pic.twitter.com/98F7WFt5OZ

— Chris Schultz (@cschultzwx) February 9, 2017
Explains the strong flash rates in this storm. #Electrification #Lightning https://t.co/b2zhdxPT3J

— Chris Schultz (@cschultzwx) February 9, 2017