This is an archived article and the information in the article may be outdated. Please look at the time stamp on the story to see when it was last updated.
While most of the rain missed us today, we see a lot of it coming this week: as much as 3" to 5" (and in a few spots even more than that) through Friday.
There are two primary risks of severe storms this week. The Storm Prediction Center already posted a 'Marginal' Risk of severe storms for Wednesday.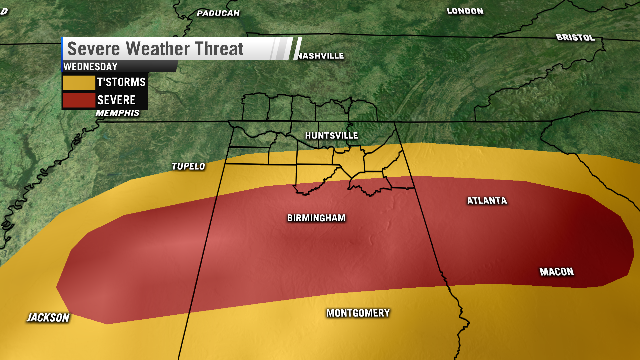 An deep area of low pressure developing over Mississippi Tuesday night moves northeast through the region early Wednesday; a surge of warm, humid air moving north ahead of that low brings heavy, soaking rain and a chance of some strong storms including hail, high winds, and a limited tornado threat. As in most cases, we cannot see definitively where a single storm may strike, so be alert.
Track heavy storms with WHNT.com's Interactive Radar or swipe over to the radar feature on Live Alert 19!
More showers and storms develop along a cold front Wednesday afternoon; however, those do not appear to have much risk of 'severe' weather with them.
Another risk of storms arises Friday: more rain, storms in the morning and yet another risk in the afternoon and early evening.
Neither of these waves of storms look like red-letter, extremely destructive situations; however, if the nasty weather happens to you, it's a big deal. We'll be here watching it all, keeping you informed.
Arctic blast and snow for Christmas? Friday's storms along a strong cold front usher in a huge change: cold air rushing in and a chance of some wintry weather on Christmas Eve and Christmas Day. How much? Who gets it? It's too soon to know right now, but we do see potential for some snow and/or ice on both Sunday and Monday.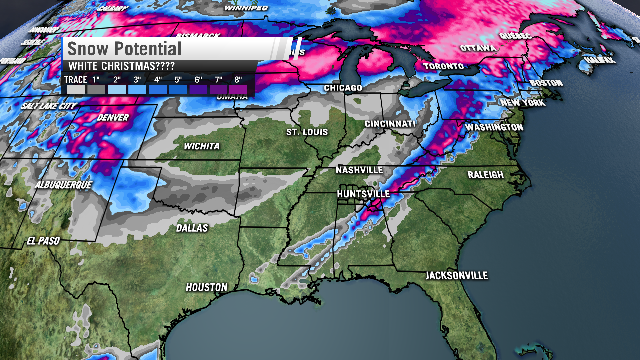 Love snow? Keep your fingers crossed. Hate snow? Keep them crossed, too. The one thing that is sure about this set-up is that nothing is certain.
Need some specifics about the weekend or next week? They're always online at WHNT.com/Weather and in the "Daily Forecast" section on Live Alert 19!
-Jason
Connect with me!
Facebook: Jason Simpson's Fan Page
Twitter: @simpsonwhnt