This is an archived article and the information in the article may be outdated. Please look at the time stamp on the story to see when it was last updated.
A dry cold front moved through the region Saturday night, knocking temperatures down Sunday afternoon. Highs only reached the upper 60s/lower 70s, which were 10 degrees cooler compared to Saturday!
That chill will linger through Monday morning, when temperatures plummet into the upper 30s for our usual cold spots in the higher elevations as well as river valleys.
Communities closer to urban areas will see temperatures drop into the mid-40s by sunrise. A chilly start to the work week, but once the sun comes up (just before 6am), temperatures will quickly climb back into the 60s by lunchtime and the upper 70s in the afternoon!
Here comes the warm-up! The reason we experienced a chill on Sunday/early Monday is due to a high pressure system anchored to our north. Air flows clockwise around high pressure, which means that air flow drove cold, dry air from Canada south into north Alabama and south middle Tennessee.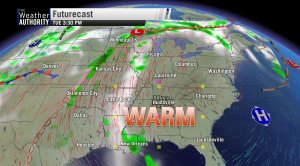 But during the week ahead, that same high pressure system will shift south and east, which means the wind will also shift as well. Instead of a northerly flow, the winds will blow from the southeast on Monday, opening the door for temperatures to rebound back into the upper 70s on Monday afternoon.
The high will continue to move off the Carolina coast Tuesday through Thursday, setting Southeast up for a BIG warm up through the rest of the week as southerly winds pump warm and humid air into Alabama and Tennessee.
The "warmest" day of 2018, so far, occurred on April 3rd when Huntsville International Airport recorded 83 degrees that afternoon. We expect daytime highs Wednesday and Thursday to "topple" that title, as forecast highs are projected to rise into the mid-to-upper 80s both afternoons.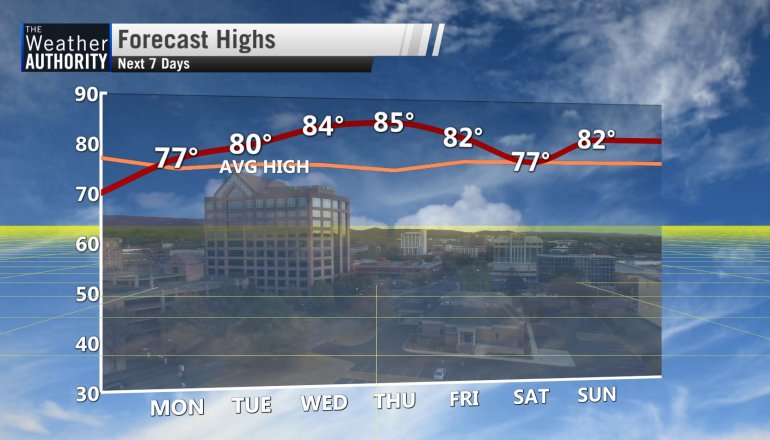 For perspective, October 15, 2017 was the final "hottest day" in Huntsville, when thermometers reached 87 degrees.
Rain returns, and unfortunately, it does so on a weekend
The climbing temperature trend will come to an end as a slow-moving storm system spreads clouds, rain and some thunderstorms this way from late Thursday through Friday.
Dry weekends are still a premium this year, and it looks like another soggy Saturday/Sunday are on tap for the first weekend in May. Details on how much rainfall as well as the exact timing of when they will begin/end are still a few days away, but for now, expect scattered heavy rain showers and a few rumbles of thunder through next Monday.