This is an archived article and the information in the article may be outdated. Please look at the time stamp on the story to see when it was last updated.
Wednesday sure looks warm, but this is nothing compared to where we are headed for Thursday and Friday:
We may not break the records this week, but we'll be awfully close to some record high temperatures. The 'all-time' record high for the month of February in Huntsville is 83ºF set on 2/23/1996; this looks short of that:
Wednesday: Forecast is 69ºF, record is 76ºF in 1980.
Thursday: Forecast is 75ºF, record is 83ºF in 1996.
Friday: Forecast is 78ºF, record is 77ºF in 2000.
The abnormally warm weather comes to an abrupt halt this weekend, but the 'cold snap' will be short-lived.
Friday's storms: A strong cold front ramming into the unusually warm, humid air mass over the South kicks off showers and storms Friday afternoon and evening northwest of the Tennessee Valley. Those storms rumble southeast through North Alabama and Southern Tennessee after 6 PM Friday (probably closer to 10pm or later).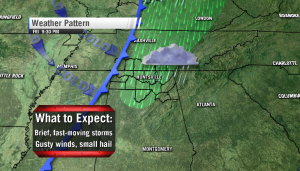 The risk of severe weather is relatively low; however, a few 'stronger' storms are possible. In this case, 'strong' means wind gusts above 40mph, brief heavy rain, small hail, and frequent lightning. What's the difference in a 'bad' storm and a 'severe storm?' See what makes a storm severe here on the Valleywx blog!
There are a few factors working in favor of severe storms including decent instability and a dynamic storm system producing wind shear after 6 PM Friday.  At the same time, some factors are working against it: a cap (basically a 'lid' over the lower atmosphere) suppressing storm development and blustery environmental winds 'mixing' the atmosphere drying the air (lessening low-level instability).
Track heavy storms with WHNT.com's Interactive Radar or swipe over to the radar feature on Live Alert 19!
Need some specifics about the weekend or next week? They're always online at WHNT.com/Weather and in the "Daily Forecast" section on Live Alert 19!
-Jason
Connect with me!
Facebook: Jason Simpson's Fan Page
Twitter: @simpsonwhnt