This is an archived article and the information in the article may be outdated. Please look at the time stamp on the story to see when it was last updated.
Significant severe weather developed well south of the Tennessee Valley Tuesday afternoon; multiple tornadoes struck around New Orleans before lunchtime (one hitting NASA Michoud) and more intense storms are likely near the Gulf Coast in Mississippi, Alabama, and Northwest Florida through the evening.
Huge tornado hits NASA's Michoud Assembly Facility Tuesday https://t.co/aoGkRNXANe

— Jason Simpson (@simpsonwhnt) February 7, 2017
Around here, widely scattered showers and storms continue through 9 PM. A few spotty areas of heavy rain may move through now and then. We don't expect any severe weather around here with the scattered storms on radar, but you can still track heavy storms, light showers, or the weather in other parts of the country where the storms are worse with WHNT.com's Interactive Radar or swipe over to the radar feature on Live Alert 19!
Very warm on Wednesday: The record high for Wednesday (Feb. 8th) is 79ºF set in 1937. We won't really challenge that one, but the temperature may be as much as twenty degrees above normal in the afternoon!
The Tennessee Valley still sits in the 'warm sector' of this storm system, so the warm weather lasts one more day before we get a reality check. A strong cold front passes Wednesday night; along it, a few showers and isolated thunderstorms are possible, but we don't expect significant severe weather at all.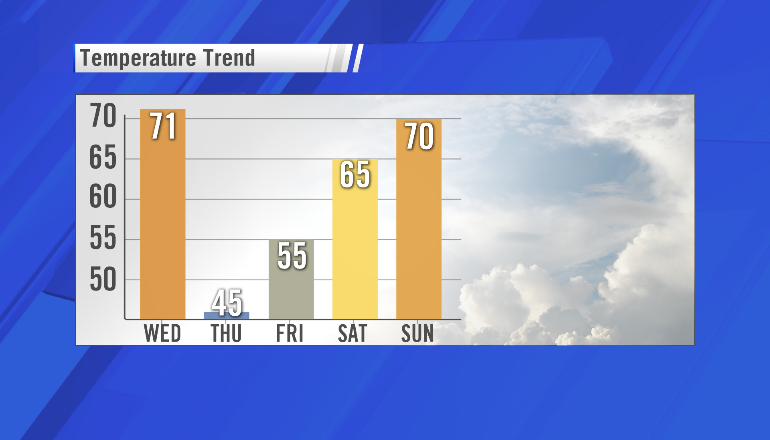 Colder end to the week: The front blasting through here late Wednesday night definitely brings a sharp change, but that change won't be long-lasting. We'll get about 48 hours' worth of colder weather.
A stiff northwest wind drives temperatures down into the 30s by Thursday morning; the 'feels like' temperature will drop as low as the middle and upper 20s by sunrise. It stays there: cold all day long. The wind, the lack of consistent sunshine because of clouds, and the colder air mean the 'feels like' temperature hangs in the 30s even in the afternoon.
Expect a freeze on Friday morning: low to middle 20s by sunrise, highs Friday afternoon in the mid-50s.
Need some specifics about the weekend or next week? They're always online at WHNT.com/Weather and in the "Daily Forecast" section on Live Alert 19!
-Jason
Connect with me!
Facebook: Jason Simpson's Fan Page
Twitter: @simpsonwhnt