This is an archived article and the information in the article may be outdated. Please look at the time stamp on the story to see when it was last updated.
Get ready for the warmest weather we've had so far in 2018 this week! After chilly morning, it warmed up quickly this afternoon. Tuesday, Wednesday and Thursday will be even warmer.
Expect another cool night around here: lows 44ºF to 52ºF (cold spots to middle-of-town) under a mostly clear sky with a light wind. We get wall-to-wall sunshine Tuesday, a southwest wind up to 15 miles per hour, and a temperature boost into the 80s by mid-afternoon for the first time since April 18th (and only the fifth time since April 1st).
Dry through Thursday: April 2018 ends as one of the coolest and wettest months relative to 'normal' on record. If rain indeed does stay away through Thursday afternoon, it will be the longest stretch of rain-free weather we've had all year long: seven straight days.
Dry weather means a big warm-up, too. Daytime highs run up into the mid-80s for the first time in 2018 this week.
Severe storms out west: A strong 'high' over the southeastern United States keeps the stormy weather away for a while, but it also sets up a significant risk of severe storms west of us: in the Central Plains states this week.
In fact, the first major severe outbreak of the season is possible from Texas to Nebraska, Missouri and Iowa on Tuesday and Wednesday.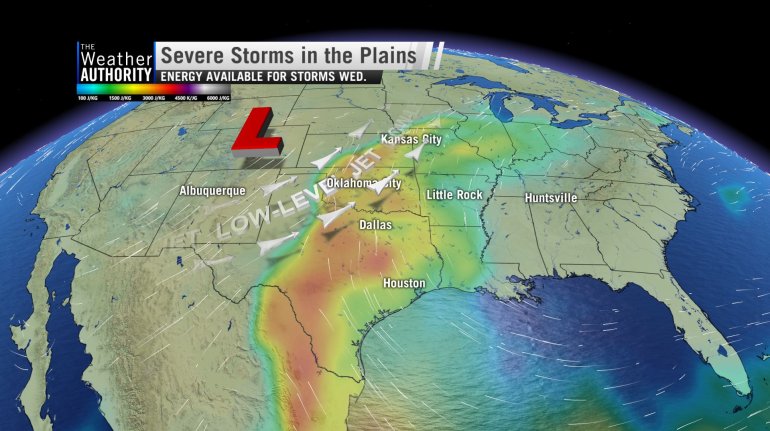 Our fair weather means foul weather for them; however, once the ridge breaks down and no longer blocks the jet stream's entry into the region, we will see some rain and a few thunderstorms around here by the weekend.
Need some specifics about the weekend or next week? They're always online at WHNT.com/Weather and in the "Daily Forecast" section on Live Alert 19!
-Jason
Connect with me!
Facebook: Jason Simpson's Fan Page
Twitter: @simpsonwhnt