This is an archived article and the information in the article may be outdated. Please look at the time stamp on the story to see when it was last updated.
Warm afternoons and cool nights continue, but there's a lot of rain on the horizon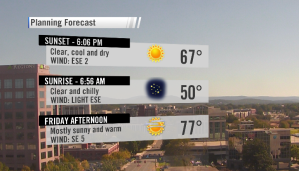 Welcome to what October is really usually like around here: a jacket or sweater in the morning, shorts and a t-shirt in the afternoon if you're out in the sun, and next to no threat of rain.
Huntsville only bottomed out at 48ºF Thursday morning, but Cullman still managed to be one of the coldest spots around at 39ºF. We'll get chilly again tonight; however, temperatures are slowly beginning to come up little by little!
Expect a a near-exact repeat of Thursday on Friday: cool and dry early with some patchy fog, sunny and warm in the afternoon with a very light breeze from the southeast (under 10 mph). Clouds start thickening some Saturday, and rain becomes likely by Sunday night. A big-ticket storm system brings a lot of rain with it from Sunday night to Monday, then it turns colder again.
Football Friday: This is not your classic 'cold' Friday night in mid-October where sales of hot chocolate and coffee skyrocket at concession stands. We get another mild Friday night: kick-off temps in the upper 60s/near 70ºF, fourth-quarter temps around 61ºF to 66ºF.
Weekend planning: Saturday starts out cool (in the 50s) then warms up quickly with a partly cloudy sky and a slight increase in humidity. Expect a high in the upper 70s and great weather for Fall festivals, football games, and yard work! The grass is still growing, so if your lawn needs mowing, Saturday gives you a really nice weather set-up to work with!
Clouds thicken throughout the day Sunday, and so does the humidity. Some scattered showers are possible before sunset; however, most of the widespread rain holds off until Sunday night and Monday. It may get heavy at times thanks to a very slow-moving storm system lumbering across the region.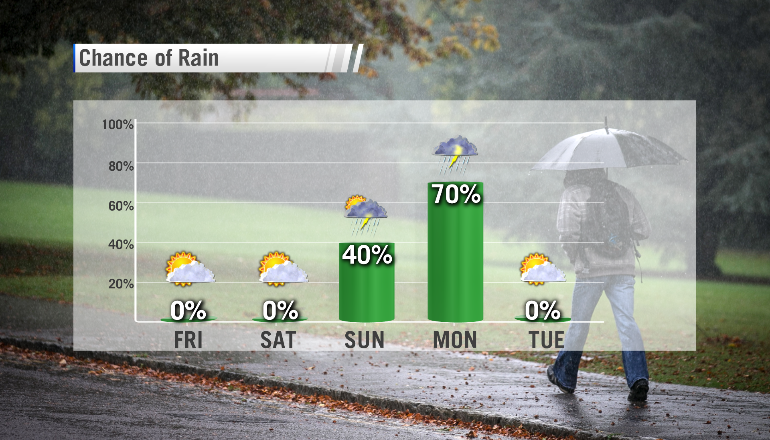 A big soaking Sunday night through Monday: A very slow-moving storm system 'drags its feet' drifting across Alabama between Sunday night and Monday afternoon. Widespread soaking rain, a breeze, and high humidity come along with it: storms possible, severe weather unlikely.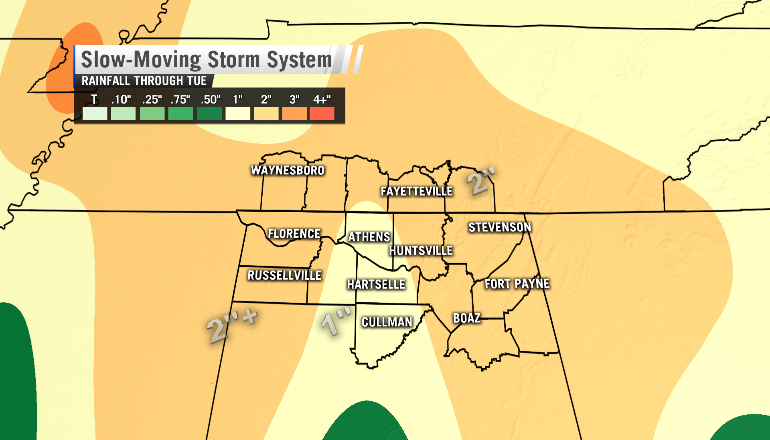 As much as 1-2" of rain may fall on average; some isolated pockets may get as much as 3" or 4" by Monday night. Monday is definitely a rain gear kind of day!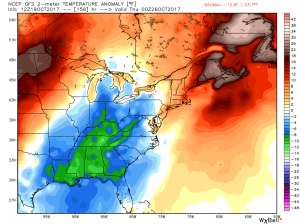 Unseasonably chilly behind the rain: The cold air blowing in behind the slow-moving storm drags us into an early December-like chill!
Expect temperatures to only make it to the mid-60s Tuesday, the upper 50s on Wednesday and right around 60ºF on Thursday.
While some frost is possible Thursday morning, most of us will stay just warm enough to prevent a 'killing freeze' that would end the growing season.
Need more specifics about the weekend or next week? They're always online at WHNT.com/Weather and in the "Daily Forecast" section on Live Alert 19!
-Jason
Connect with me!
Facebook: Jason Simpson's Fan Page
Twitter: @simpsonwhnt