This is an archived article and the information in the article may be outdated. Please look at the time stamp on the story to see when it was last updated.
It's a beautiful MLK Day in the Tennessee Valley. It's perfect timing with several folks already off from work. Temperatures are already above the seasonal average of 52° just after 11am. We are well on our way to readings in the upper 50s to lower 60s this afternoon. Here is a look at Downtown Huntsville around 11:15am.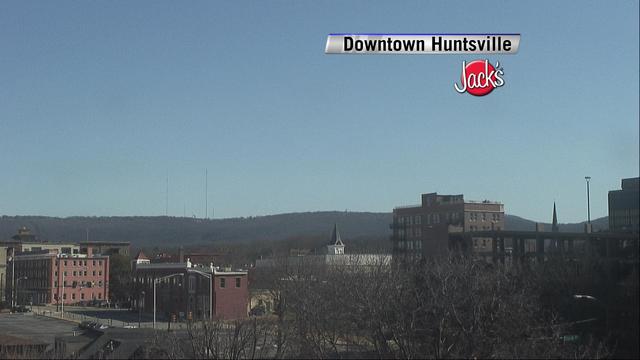 Temperatures are pleasant. Enjoy this afternoon, because the bottom falls out tomorrow. A gusty northwest wind and readings likely holding in the 30s during the afternoon. Wind chills hold below freezing through most of the day.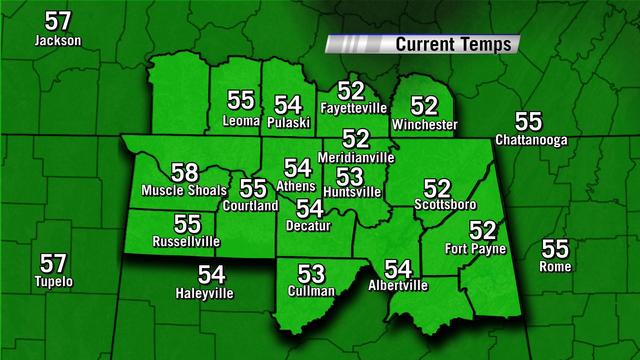 There is more chatter about light snow and flurries in the Tennessee Valley. Here is the morning model run. It shows the risk of a few flurries/snow showers across mainly southern middle Tennessee and northeast Alabama during the day Tuesday. Much like the last event, this won't be a big deal. The suspect areas are southern middle Tennessee, northern Cumberland Plateau, and Lookout Mountain. These areas have a chance at a dusting. Other areas could see a few flakes fly. No travel troubles are expected. The main problem Tuesday will be colder wind chills and lows in the teens by Wednesday morning.
Here is the chance of an inch of snow in the Tennessee Valley. The chance are slim to none for any significant accumulation. As you can see by this chart from the Hydrometeorological Prediction Center, the chance of an inch of snow in northeast Alabama is between 2%-5%. Southern middle Tennessee including Winchester, Cowan, and Decherd is about 5%-10%.