This is an archived article and the information in the article may be outdated. Please look at the time stamp on the story to see when it was last updated.
The greatest risk of severe weather today will be west of Alabama; in fact, we may not see much more than a few showers 'during the day' on Tuesday, but heavier rain, gusty winds (40+ MPH), and a few stronger storms move in tonight through early Wednesday morning.
HOW BAD WILL THE STORMS BE? On the whole, this isn't a major threat for widespread, destructive weather in North Alabama. Might there be an instance in which a storm can do some damage? Yes. We'll be watching that tonight.
WHEN WILL THEY GET HERE? You might not get a 'storm' where you live at all tonight. We're all getting some rain, but we won't all get a true 'thunderstorm.' That makes the timing question a little more difficult. Expect some storms in Northwest Alabama around or just after midnight. Those storms move into the Huntsville-Decatur-Athens area between 1 AM and 4 AM. It's looking unlikely that we will have many storms at all (just mainly a band of rain and gusty winds) when it gets to Northeast Alabama after 3 AM to about 6 AM.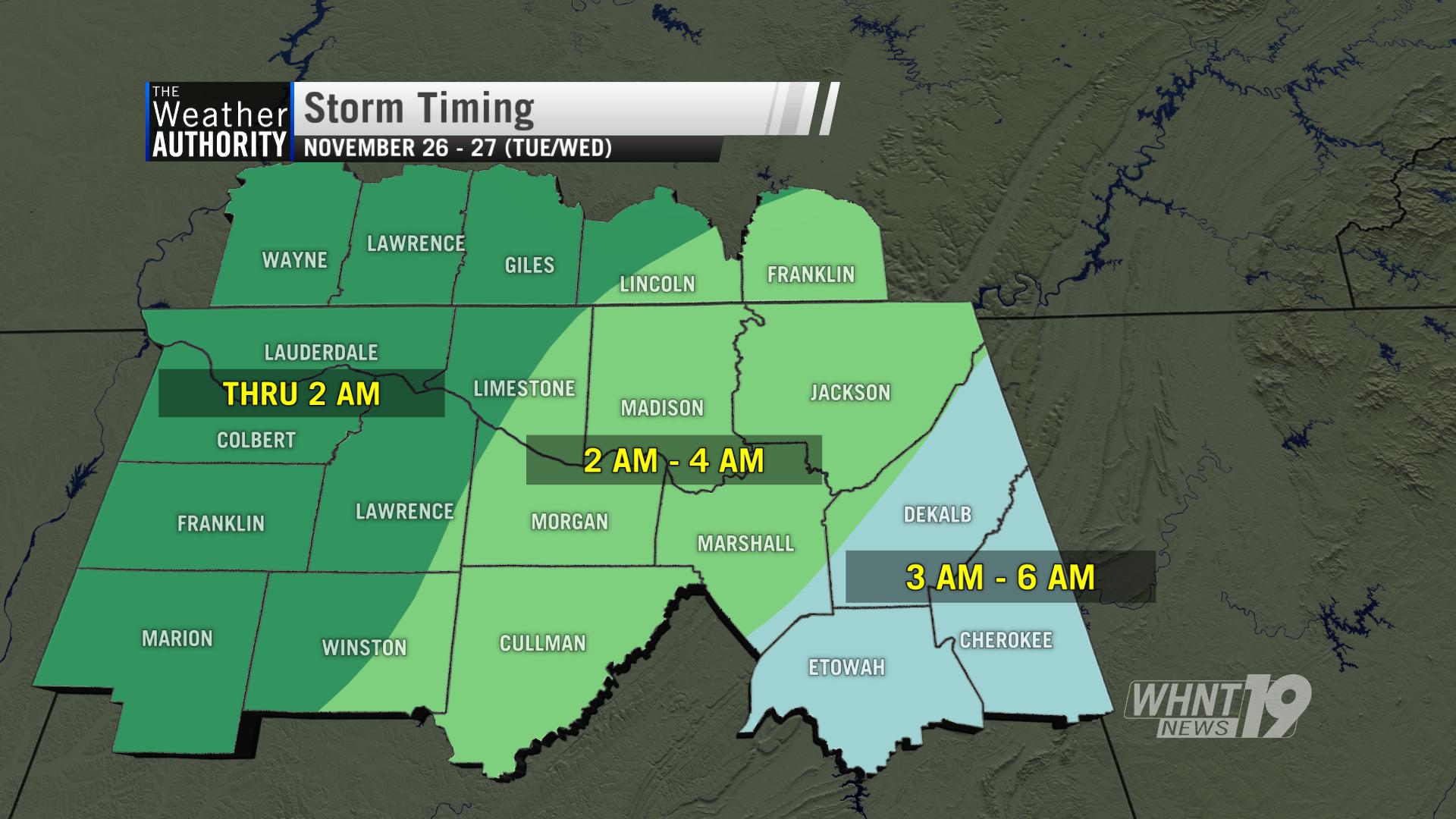 WHAT DO YOU NEED TO DO? Stay up all night and worry? Nope. You may not need to do anything other than have a way to get a warning JUST IN CASE one is issued for your area. Live Alert 19 is a great tool, and so is your NOAA Weather Radio. That combo should be enough to alert you IF the weather gets bad enough in your area to take action.
Track heavy storms with WHNT.com's Interactive Radar or swipe over to the radar feature on Live Alert 19!
-Jason
Connect with me!
Facebook: Jason Simpson's Fan Page
Twitter: @simpsonwhnt