This is an archived article and the information in the article may be outdated. Please look at the time stamp on the story to see when it was last updated.
Whether you have plans to explore the Tennessee Valley this weekend, heading south for some football, or hoping to take a trip to the beach, you will want to monitor Tropical Storm Nate as it moves its way into the Gulf of Mexico over the next 24 hours.
Saturday Afternoon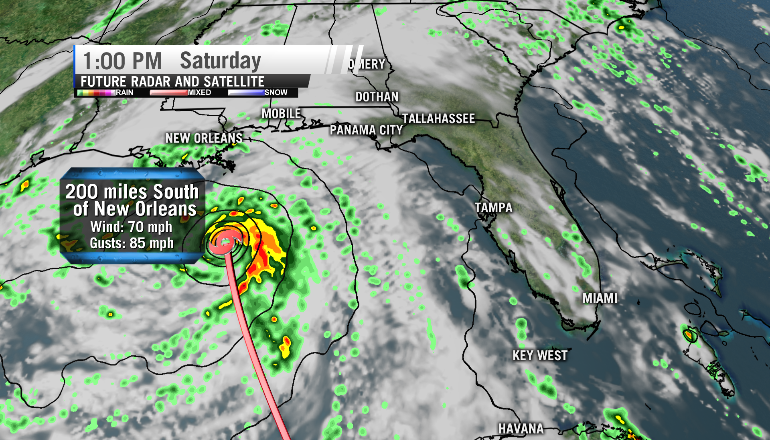 After moving past the Yucatan Peninsula, Nate is forecast to move over the center of the Gulf Saturday afternoon. As it does so, it will move over very warm water, which serves as the "fuel" for tropical systems. These waters will allow Nate to strengthen as it approaches the Louisiana.
Further inland, a few showers or storms are possible in Auburn as the Tigers take on Ole Miss. The game won't be a wash out, but some rain is possible after kickoff. It's a similar situation for homecoming at UNA in Florence. The Crimson Tide should expect dry conditions in College Station, Texas, but the same could not be said for Alabama A&M, who will be battling it out on the gridiron in Baton Rouge — gusty winds and very heavy rain are likely for this game.
Saturday Evening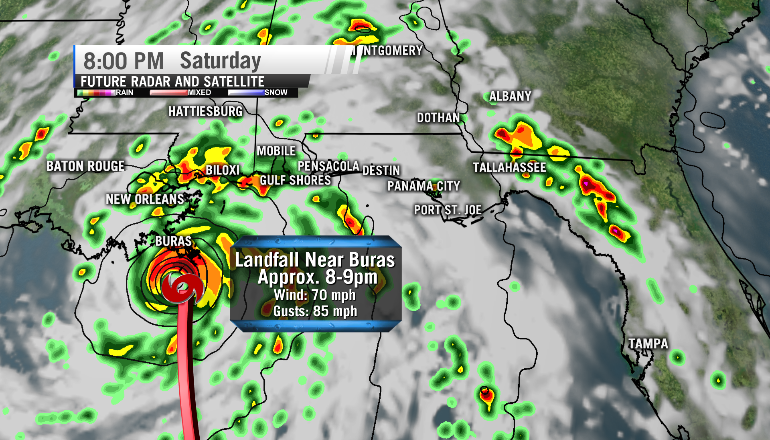 Nate will approach the southeast Louisiana coast Saturday night. Landfall is defined as when the center of circulation moves over land, and this will likely occur between 8pm and 9pm Saturday night. Even though Nate's center of circulation will be over the eastern tip of Louisiana, hurricane and tropical storm force winds will be expected from New Orleans to Biloxi, Mobile, Gulf Shores, Pensacola, Destin and Panama City. Areas east of Port St. Joe will be breezy, but below tropical storm limits.
Further inland, very heavy rain and gusty winds are expected from Hattiesburg to Dothan, Opelika, Auburn, Troy and Montgomery as Nate's rain bands swing through southern Mississippi and southern Alabama. Expect the winds to pick up into the 30-50 mph range as well as heavy rainfall to begin after 5pm Saturday.
In the Tennessee Valley, winds will begin to pick up and sustained winds of 10-15 mph are likely, with gusts as high as 25 mph Saturday evening. However, we expect the wind to pick up Sunday afternoon.
Overnight Saturday/Early Sunday Morning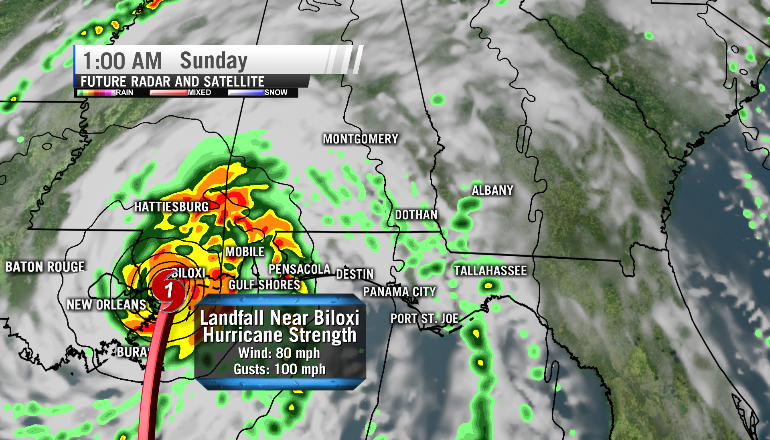 Nate is expected to strengthen to a category 1 hurricane before making landfall again near Biloxi, Mississippi after midnight Sunday morning. Wind gusts as high as 80-100 mph are expected along the Gulf, and several inches of rain are likely from Gulf Shores to Pensacola to Mobile during the overnight hours.
Further north, heavy rain associated with Nate's rain bands will continue to swing north into Montgomery, Auburn, and the southern fringe of Birmingham.
Sunday Afternoon
By midday Sunday, the center of Nate will be south of Birmingham, moving northeast into the Tennessee Valley. Very heavy rain will be falling from Tuscaloosa to Talladega north into Cullman, Huntsville, and Florence.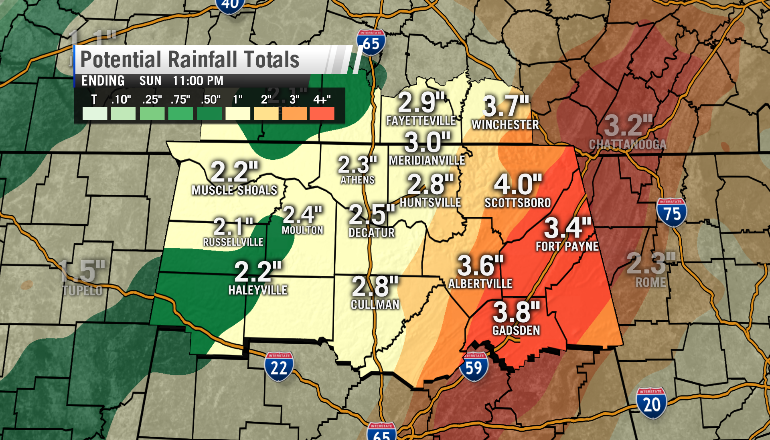 From Sunday morning through Sunday night, Nate could drop as much as 2-3 inches of rain from Mississippi to the I-65 corridor. In higher elevations of Sand Mountain and the Cumberland Plateau, as much as 3-4 inches of rain are possible. Dry conditions over the past few weeks will help mitigate the flash flood threat Sunday, but watch for areas that pond easily during heavy rain events.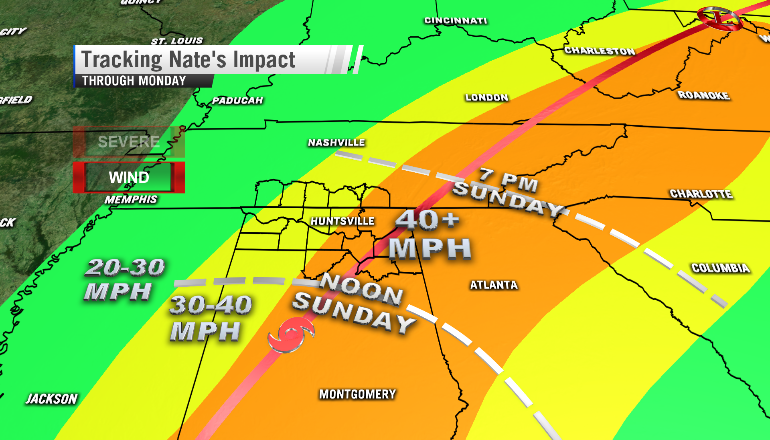 Throughout Alabama into eastern Tennessee and north Georgia, Nate will bring a swath of gusty winds along the Sand Mountain/I-59 corridor from 12pm Sunday through 7pm Sunday.
Severe Weather Threat?
Remember that tropical systems are low pressure systems, which swirl in a counter-clockwise direction around the center of the storm. As the winds blow counter-clockwise, it pulls warm and humid air into the region, and the eastern side of the storm is where these counter-clockwise winds are essentially the strongest.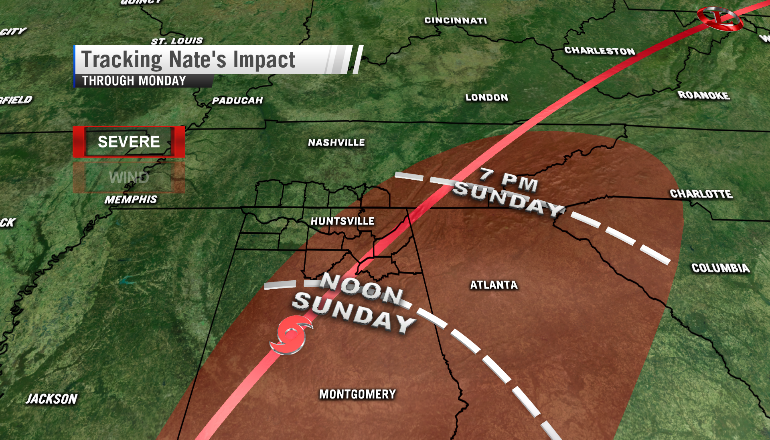 Therefore, monitor your location in relation to where the center of Nate's circulation moves through. Areas east of the center would have the greatest potential for quick-spin up tornadoes — these would last about 5 to 15 minutes in duration. Have a weather radio handy as well as Live Alert 19 on your mobile device in order to stay ahead of Nate's potential severe weather threat.