This is an archived article and the information in the article may be outdated. Please look at the time stamp on the story to see when it was last updated.
A Tropical Storm Warning has been issued for the northern coast of North Carolina, including the Outer Banks. This comes as now Tropical Storm Maria approaches from the southeast.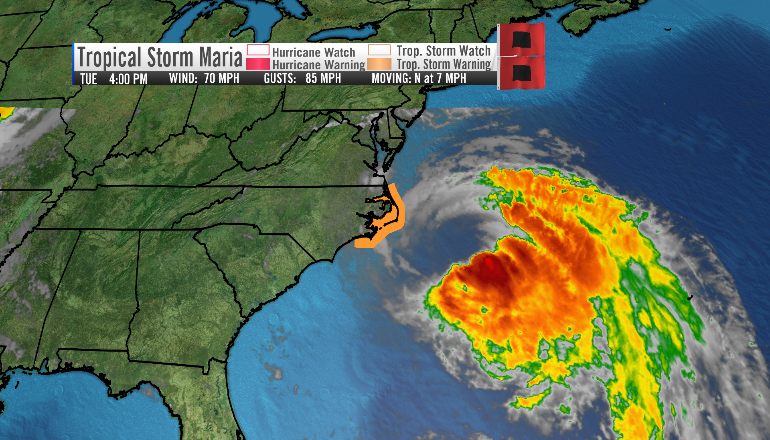 Maria weakened into a Tropical Storm Tuesday afternoon, but is still packing winds up to 70 mph. Fortunately Maria is likely to keep weakening as it passes the Outer Banks. Part of the reason Maria will keep weakening is that the storm is moving into waters that have been cooled from when Hurricane Jose moved through.
Maria will continue on its current path north, up until Wednesday. By Wednesday the jet stream will kick into gear and help pull Maria back out to sea. This is why Maria is forecast to take a sharp right turn, missing the East Coast.
Maria is still a large storm and, even without a direct hit, will impact the coast of North Carolina. The main risks are storm surge up 2 ft, rough surf, and tropical storm force winds.
Puerto Rico after Maria: Puerto Rico, where Maria made landfall as a Category 4 storm, is on a long road to recovery. Maria made landfall on Wednesday, September 20th, leaving millions without power.
Satellite night images of #PuertoRico. #HurricaneMaria knocked out power grid, millions without electricity. More @ https://t.co/UxxCHH5OVC pic.twitter.com/yUDLk8V0Jf

— NOAA Satellites (@NOAASatellites) September 25, 2017
The threat is far from over. The longer the island is without power and clean water the higher the risk of illness will rise.
While Puerto Rico tries to cope with the current damage, it's also evacuating citizens from certain regions. The Guajataca dam in northwest Puerto Rico is at risk of collapsing, which would lead to more catastrophic flooding.
Ten fatalities from Puerto Rico have been confirmed due to Hurricane Maria.