This is an archived article and the information in the article may be outdated. Please look at the time stamp on the story to see when it was last updated.
Tropical Storm Nate intensifies and heads for the Gulf of Mexico through the weekend; the storm likely ramps up enough to be classified as 'Hurricane Nate' by Saturday morning.  The National Hurricane Center's forecast track is farther west now than it was Wednesday, so that means most of Alabama and Northwest Florida will be on the 'meaner' side of the system.
So what does that mean to you?
Before you continue reading, look at the time on this post. This information may become dated. The latest information is always online at WHNT.com/Weather and in the "Daily Forecast" section on Live Alert 19!
Wind: The strongest winds occur near landfall on the Gulf Coast; hurricane-force winds upwards of 80 miles per hour are likely on the coastline of Louisiana and Mississippi Sunday.  Tropical storm-force (39-73 mph) winds are likely on Alabama's coast and possibly even western Florida (Pensacola to Destin) based on THIS forecast.
Inland, we'll see 30 to 50 mph wind gusts as the storm moves north-northeast toward the Tennessee Valley Sunday night into Monday.  That's enough to cause power outages, knock down some trees, and disrupt 'normal' life somewhat on Sunday and Monday.
Rain: The American-run GFS forecast model has been remarkably consistent with a forecast for heavy rain in North Alabama, Tennessee and Georgia for several days now. We expect around 2-4″ of rainfall with some locally-higher amounts that begin with some showers Saturday. That turns into a deluge Sunday night and Monday morning.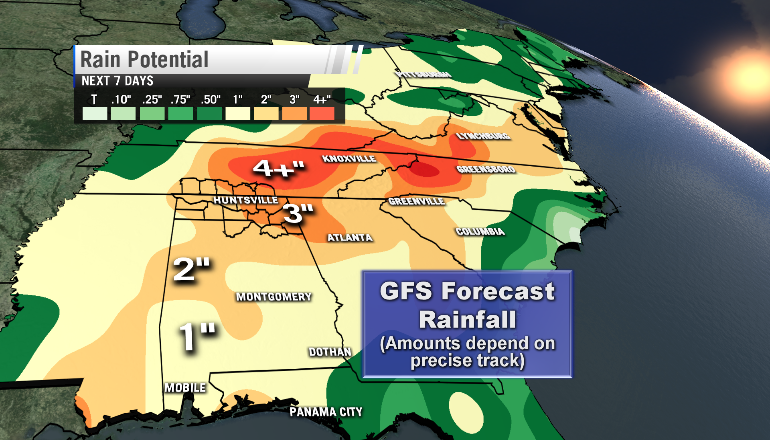 Severe weather risk? As of Thursday morning, the Storm Prediction Center has a small outline for a threat of severe storms (from tropical rain bands) over South Alabama and Northwest Florida through Sunday morning. That risk likely moves north with the storm Sunday night and early Monday.
There will be some risk of severe storms with strong winds and at least a marginal risk of a few tornadoes on the east and south sides of Nate's center. At this moment, it's impossible to know if that means Huntsville is IN or OUT of the threat because it's too close to call.