This is an archived article and the information in the article may be outdated. Please look at the time stamp on the story to see when it was last updated.
Over the weekend, the National Weather Service in Miami began issuing a Five-Day Graphical Tropical Weather Outlook for the Gulf Coast for a potential system that may develop later this week.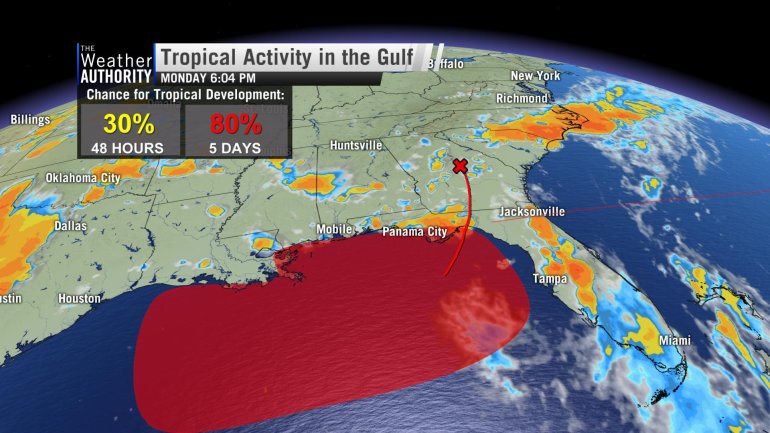 This particular system will be interesting because the "genesis source" for the system will actually come from the north Georgia area. This is because a series of mesoscale convective systems (MCSs) will dive south from Ohio River Valley on their way to the Deep South before arriving in the Gulf. From there, the MCSs will undertake more tropical characteristics in the atmosphere, and a tropical depression or tropical storm may form. Below are various forecast model guidance outputs for what may occur later this week — it's important to note that many atmospheric variables can change between Monday and Thursday/Friday.
For travel plans to the Gulf, be sure to monitor any development between the Big Bend of Florida through the Mississippi Coast. It is too soon to know if a system will develop then, but the National Hurricane Center is giving a 80% chance of development through the week's end. If a tropical storm manages to develop, its name will be Barry.
Tropical Weather Outlook
NWS National Hurricane Center Miami FL
200 PM EDT Mon Jul 8 2019

For the North Atlantic…Caribbean Sea and the Gulf of Mexico:

1. A trough of low pressure located over central Georgia is forecast
to move southward toward the northeastern Gulf of Mexico, where a
broad area of low pressure is expected to form on Wednesday.
Environmental and ocean conditions are forecast to be conducive for
development and a tropical depression is likely to form by the end
of the week while the low moves slowly westward over northern Gulf
of Mexico. Regardless of development, this system has the potential
to produce heavy rainfall along portions of the northern and eastern
U.S. Gulf Coast later this week. For more information about the
rainfall threat, please see products issued by your local weather
forecast office and the NOAA Weather Prediction Center. Interests
along the Gulf Coast from the Upper Texas coast to the western
Florida peninsula should monitor the progress of this system.
* Formation chance through 48 hours…low…30 percent.
* Formation chance through 5 days…high…80 percent.