This is an archived article and the information in the article may be outdated. Please look at the time stamp on the story to see when it was last updated.
The worst of what Irma had in store for the Tennessee Valley has already passed. Monday night and early Tuesday morning wind gusts close to 40 mph were reported across the Valley, along with 2-4 inches of rain.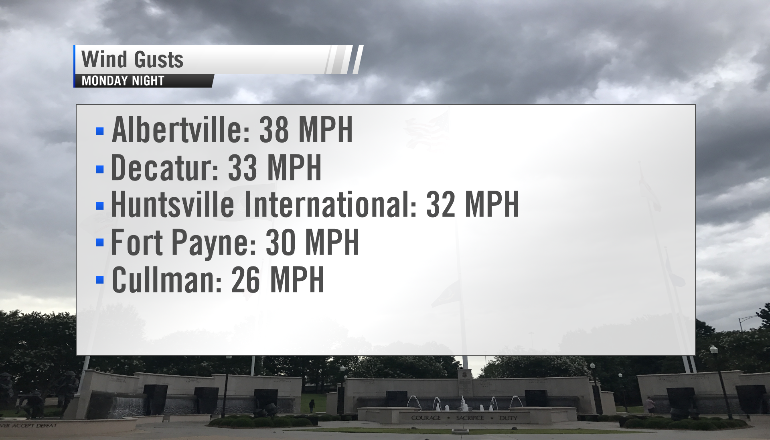 Irma is currently moving through Alabama as a post-tropical cyclone. That means it is no longer 'tropical' in nature, but it is still producing winds up to 20 mph and gusts up to 25 mph. Irma will pass through central Alabama, before tracking through northwest Alabama Tuesday evening.
Winds will lighten for the remainder of your Tuesday. What's left of Irma is still moving over the Valley though, so we'll keep isolated showers in the forecast, along with winds up to 15 mph, through Wednesday afternoon.
Tuesday Afternoon and Evening: What's left of Irma will be on its way out of the Valley. Winds up to 10-15 mph are still possible, along with gusts of 20 mph.
Rain will become more widely scattered and lighter through the afternoon and evening, but mostly cloudy skies will stay in place. The clouds and rain will keep it cool, with highs barely making it into the mid to upper 60s.
Wednesday: Winds up to 10-15 mph are possible, but it will not be as gusty. Rain will be spotty, and clouds will start to break up during the afternoon. We'll start to see temperatures recovering, with highs back to near 70.