This is an archived article and the information in the article may be outdated. Please look at the time stamp on the story to see when it was last updated.
A potent storm system moved through the Great Plains Monday, generating numerous tornado reports throughout Oklahoma, Arkansas, Kansas, Nebraska, Iowa and Illinois.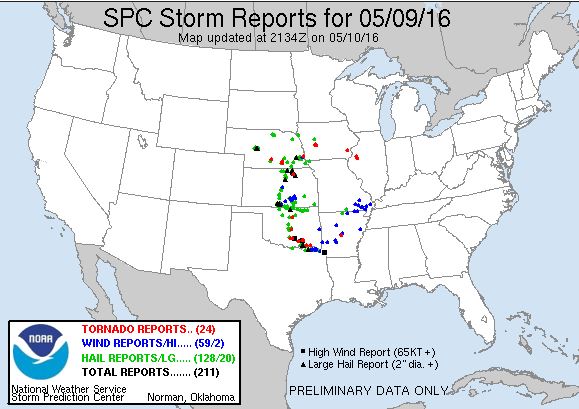 One particular tornado showed anti-cyclonic circulation, which is very rare. In the northern hemisphere (where we live), the majority of tornadoes spin in a cyclonic, or counter-clockwise rotation.
*12-mile anticyclonic #tornado track*; radar shows circ separating from main Sulphur one RE https://t.co/RfLQJQbbPS pic.twitter.com/dm40RqHzoy

— Stu Ostro (@StuOstro) May 10, 2016
However, a small percent of tornadoes do exhibit anti-cyclonic rotation, meaning they spin in a clockwise rotation. The cause of this is still under research, though it is thought that with so much turbulent flow occurring in the tornadic atmosphere, rotation in different directions will randomly form.
Survey teams also found a 12 mile long damage path associated with an anti-cyclonic tornado from N of Sulphur to N of Roff.

— NWS Norman (@NWSNorman) May 10, 2016
As many as eight tornadoes touched down in Oklahoma Monday, two of which were rated as strong EF-3 tornadoes via damage assessment. The National Weather Service in Norman states that the Katie tornado exhibited estimated peak wind speeds of 155 to 165 mph and was on the ground for 9 miles, killing one person before dissipitating. The Sulphur tornado exhibited estimated peak wind speeds of 150-165 mph and was on the ground for 17 miles.
Katie tornado (W of I-35) and Sulphur (E of I-35) both high end EF3. Sulphur tornado was one mile wide at times according to survey.

— NWS Norman (@NWSNorman) May 10, 2016
Reminder: The Enhanced Fujita scale is based off of tornado damage, not size or visual impressiveness
A misconception has been running rampant lately in the weather community. During severe weather events when a tornado is present and traveling on the ground, some meteorologists and storm chasers will label the tornado as an "F-something" or "EF-something" while the tornado is still en progress.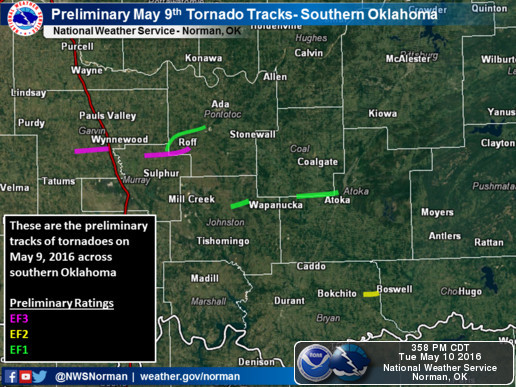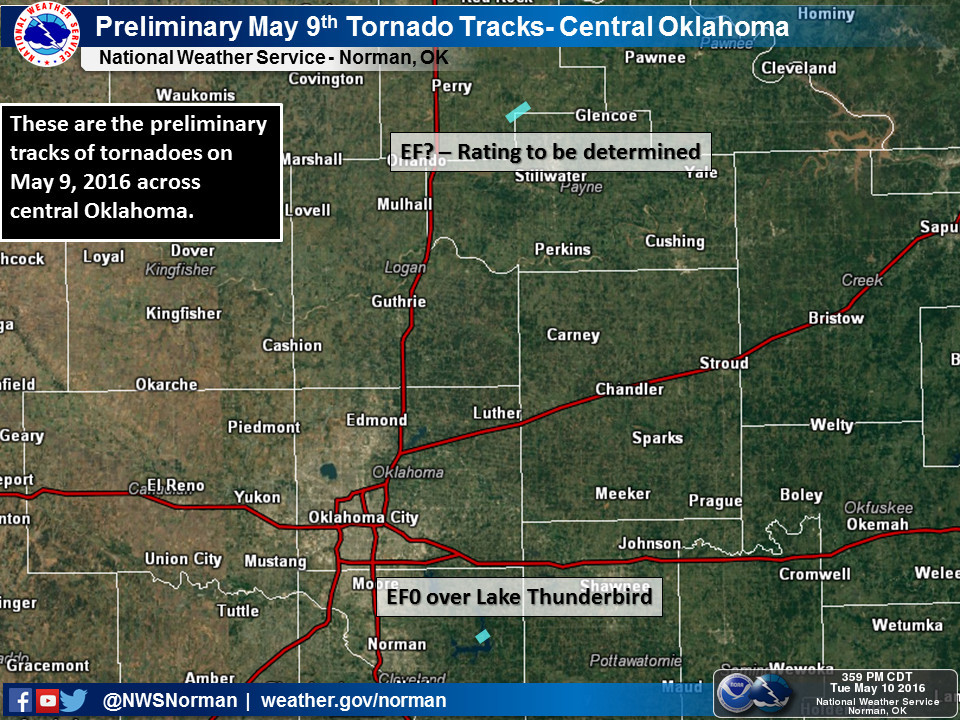 That's actually "bad meteorology," because the Enhanced Fujita (EF) scale is based off of the damage the tornado produced, and the EF rating can only be deduced after the tornado has dissipated and the National Weather Service has assessed the damage. The National Weather Service damage survey assessment list is rather long and complex, but the details are available here on the Storm Prediction Center's Frequently Asked Questions page.
For example, a mile-wide tornado may look particularly impressive in the middle of a large corn field, but if there are no buildings for it to damage, then it would likely receive a lower EF rating. Conversely, a thin ropey tornado may hit a major population area, creating damage to substantially built houses and businesses that may garner a higher EF rating.
This misconception came to the forefront in 2013, when a record-breaking large tornado hit the town of El Reno, Oklahoma. Within the span of one minute, the tornado grew from being a mile wide to 2.6 miles wide, making it the widest tornado on record. Despite hitting and killing numerous travelers stuck on the Oklahoma interstates, the tornado struck a relatively rural area, and it only created damage that corresponded to wind speeds of approximately 136 to 165 mph, or an EF3 tornado.
However, two research radar vehicles were within a few miles of the El Reno tornado, and some of the data scans showed wind speeds as high as 295 mph — on par with an EF5 tornado. However, because the wind speeds were sampled from radar and did not correspond with damage assessments, El Reno's official EF rating stands at EF3.
Keep this in mind the next time you see tornado videos and reports swirling around social media. Reserve using the term "EF" until after the National Weather Service has performed the damage survey and released its assessment.