This is an archived article and the information in the article may be outdated. Please look at the time stamp on the story to see when it was last updated.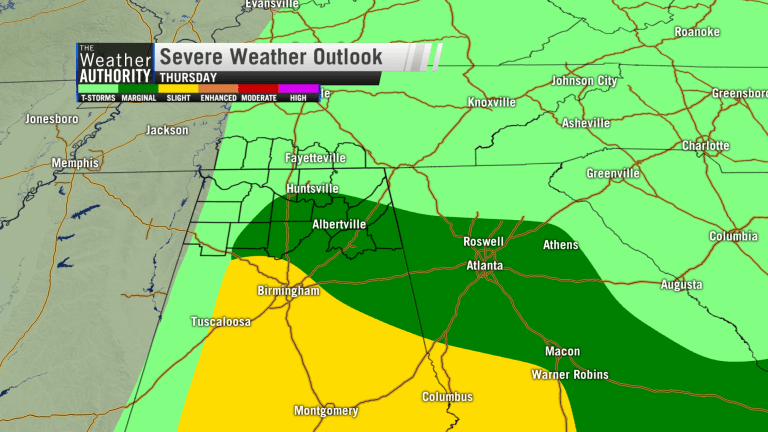 Thursday's severe weather threat in North Alabama and Tennessee looks low; the Storm Prediction Center's *MARGINAL RISK* outlines a low risk of an isolated severe storm within a broader area of rain and wind in the area noon: wind gusts to 50 miles per hour are possible, some locally-heavy rain produces up to 1.5" of rainfall in spots.
What to expect: A band of very heavy rainfall (rain rates up to 6″ per hour) and gusty winds moving eastbound across North Alabama exits the area by noon.  The severe weather threat is low. We don't expect 'major' or 'destructive' weather in North Alabama today; however, the rain and wind will be disruptive to travel at times by slowing you down, reducing visibility, and making it a little harder to control high-profile vehicles.
Storm survey planned: There were several reports of wind damage (mainly trees) in Northwest Alabama Thursday morning.  The National Weather Service in Huntsville will survey the damage to determine if a tornado occurred in northwestern Franklin County/southwestern Colbert County.  The details of that report will likely be in by late afternoon or early evening.
-Jason
Connect with me!
Facebook: Jason Simpson's Fan Page
Twitter: @simpsonwhnt