This is an archived article and the information in the article may be outdated. Please look at the time stamp on the story to see when it was last updated.
Both Huntsville and Muscle Shoals topped out at 98 degrees Wednesday, marking the hottest day of the year so far in 2017.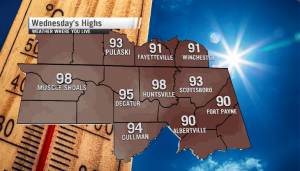 But that got me thinking: What are THE hottest temperatures on record for the Tennessee Valley? What was the hottest temperature recorded in the state of Alabama?
Hot weather then and now
As the graphic below shows, the hottest day in Huntsville occurred on July 29, 1930, when thermometers reached 111 degrees. Birmingham also recorded triple-digit heat that day with a record high of 107 degrees. That same year, a roasting 108 degrees were measured on August 8 in Muscle Shoals.
Summer 2012 also featured its sweltering hot days as well. Winchester and Fort Payne both recorded record high temperatures of 104 degrees on July 1.
But the hottest temperature in Alabama occurred five years prior, when thermometers topped out at 112 degrees in Centreville, Alabama. Below is a photocopy of the weather observer's observations for September 1925.
Alabama's state climatologist Dr. John Christy notes that "the readings were taken at 8 a.m., so the actual 112 occurred on the afternoon before, i.e. 5 September 1925."
"Madison, Alabama recorded the second highest temperature in the state's history on 28 (29) July 1930," Christy continued. "Its interesting that many states north of AL have state records in the 120s (e.g. South Dakota)."
2017 heat finally breaks for the weekend
Temperatures are forecast to come back down over the course of the weekend as a weak cold front advances into the Tennessee Valley. This front — along with the heat and humidity in place — will allow more widespread cloud cover as well as scattered showers and thunderstorms to develop. As a result, temperatures will decrease heading into next week. Click here for a detailed analysis of the weather forecast for the Tennessee Valley.