This is an archived article and the information in the article may be outdated. Please look at the time stamp on the story to see when it was last updated.
The Perseid Meteor Shower is usually one of the best of the year, and the 2018 version peaks over the next few nights.  The ramp up to the peak begins overnight Friday into Saturday morning, but the greatest number of visible meteors comes over the weekend.
Space.com spoke with NASA's Dr. Bill Cooke based here in Huntsville at the Meteoroid Environment lab, and he says to expect around 60-70 meteors per hour in the predawn hours Saturday, Sunday and Monday mornings:
The meteor shower's peak will be visible both the nights of Aug. 11-12 and Aug. 12-13, Cooke said, but he's inclined this year to lean toward the night of Aug. 12-13 for the better show.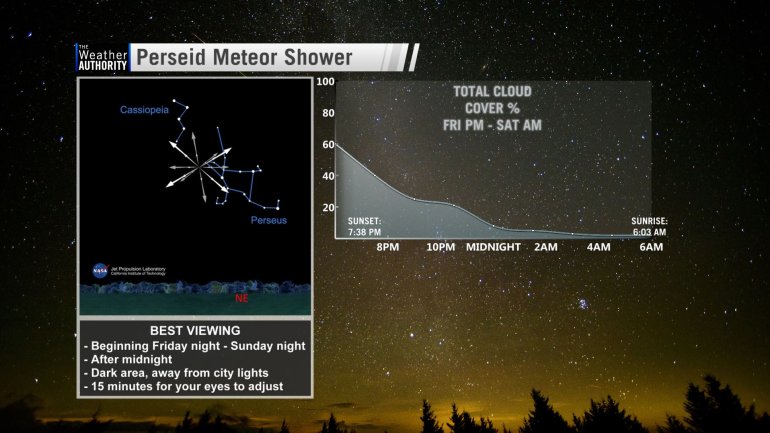 The forecast is for generally good viewing conditions through the weekend.  Scattered afternoon and evening thunderstorms leave us with some cloud 'debris' (leftovers) each night and early morning, but your view should be good as long as you have a nice, dark place to watch the meteor shower!
Need some specifics about the weekend or next week? They're always online at WHNT.com/Weather and in the "Daily Forecast" section on Live Alert 19!
-Jason
Connect with me!
Facebook: Jason Simpson's Fan Page
Twitter: @simpsonwhnt