This is an archived article and the information in the article may be outdated. Please look at the time stamp on the story to see when it was last updated.
Huntsville fell to 38ºF Sunday morning, making it the coldest morning since April 20th.  So we didn't get to the freezing mark, but it's the closest we've gotten so far this fall!
Sunday night will be just as chilly, if not a few degrees more so for some of us. Temperatures drop into the mid to upper 30s again heading into Monday morning. As high pressure settles right over the Valley our winds will calm overnight. That leaves us with a small window of opportunity for our usual cold spots like Valley Head, New Market, Winchester, and Russellville to see a little scattered frost!
We're pretty close to when our average first freeze and frost occur, so although it feels quite cold it's not unusual for this time of year! Huntsville's average first freeze comes around November 2nd, with the average hard freeze (29 or below) further out around November 12th.
Cool Air Leaves As Quickly As It Came: The northerly flow of cool air continues up until Monday. Past Monday morning, we'll begin a gradual warm up as our winds shift from northerly to southerly. That puts us into the upper 60s Monday afternoon and then we'll rise back into the 70s through the middle of this week.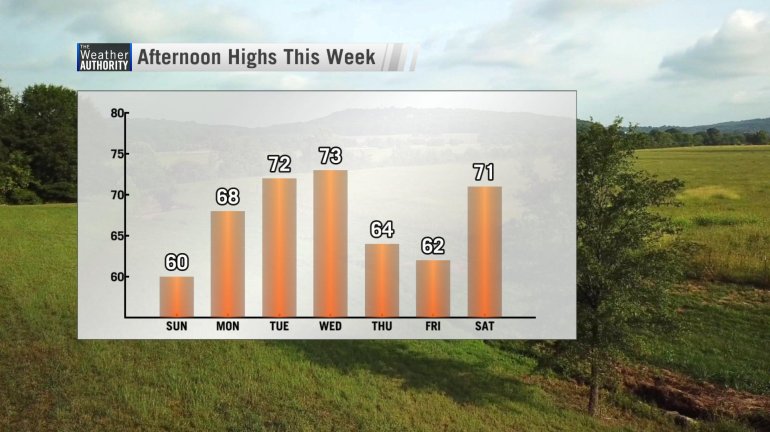 The next cool down in sight doesn't look to come without more rain. Another slow-moving cold front moves in Thursday, bringing scattered showers through Friday. This time the coldest air looks to stay just north of the Tennessee Valley. That keeps us in the 60s for highs through next week.