This is an archived article and the information in the article may be outdated. Please look at the time stamp on the story to see when it was last updated.
If you have any plans to spend outdoors this weekend, the weather will be fabulous for mowing the lawn…or even taking care of an early summer harvest!
John Simon snapped these photos along Wall Triana Highway near Towne Lakes in Triana. Simon summed up the photos succinctly: "Two combines harvesting winter wheat on a warm sunny afternoon."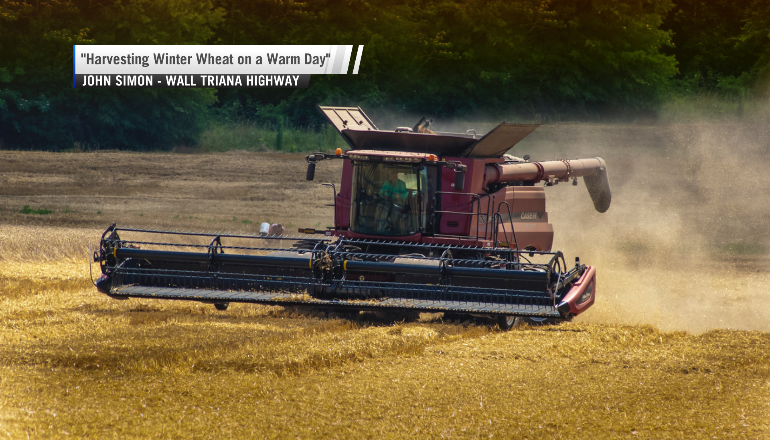 All this week, temperatures remained below average, both in the morning and in the afternoon.
Overnight lows dropped into the low-to-mid 50s Friday morning; Russellville nearly dipped into the 40s! Afternoon highs were limited to the low-to-mid 80s through Friday afternoon.
What can we thank for the breath of unseasonably cool, fresh air?
High pressure settled into the Tennessee Valley, pushing a cooler and drier air mass into the region. When the air is dry, it is able to cool to a lower temperature compared to more humid air.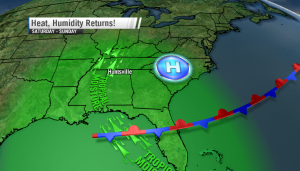 But we won't stay in this drier pattern for much longer: The center of high pressure will shift east of the Carolinas, which will result in a southerly wind that will bring a "return flow" of warm, humid air from the Gulf of Mexico to the Tennessee Valley.
This weekend, you'll notice the temperature go back up to the upper 80s to lower 90s, and the sticky, soupy feel of the increasing humidity levels as well.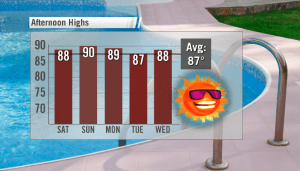 The good news is that we are not anticipating any showers or thunderstorms until Monday, but the bad news is that it will be uncomfortably hot for anyone spending considerable time outside. Be sure to take plenty of breaks in the shade, and always have water nearby to stay hydrated.