This is an archived article and the information in the article may be outdated. Please look at the time stamp on the story to see when it was last updated.
As Nate continues to push inland Sunday, it will quickly curve towards the north-northeast and move straight through the Tennessee Valley.
As a result, heavy rain and gusty winds are expected Sunday morning through Sunday afternoon, tapering off in the evening.
Below is a quick glance at the current alerts and advisories in effect for the Tennessee Valley. Click the bolded text for more in depth information:
Tropical Storm Watch in effect for Cullman, Morgan, Marshall and DeKalb Counties until further notice. This is mainly for sustained winds greater than 40 mph are expected in a particular area due to a tropical system like a tropical storm or hurricane
Wind Advisory is in effect for Lawrence, Limestone, Madison, Jackson [AL] and Lincoln, Moore and Franklin [TN] counties Sunday morning through 7pm Sunday evening.
Flash flood watch in effect for Marshall, Jackson, DeKalb, Blount, Etowah and Cherokee counties through Monday morning.  
SUNDAY MORNING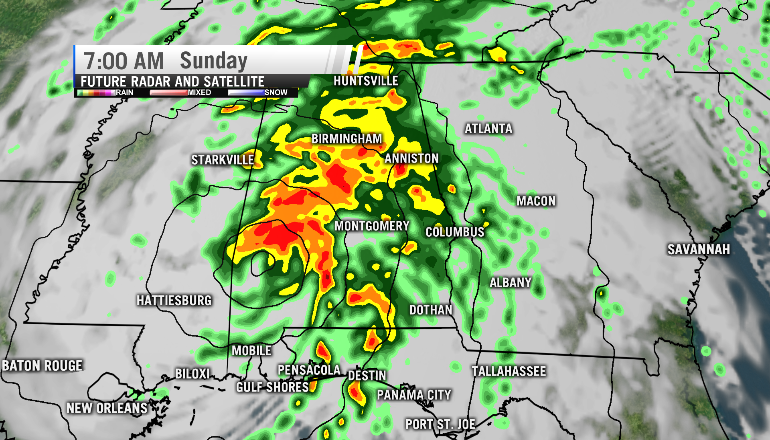 Even though the center of Nate will still be in southwestern Alabama Sunday morning, the heavy downpours embedded within the rain bands will continue to move north into the Valley.
SUNDAY AFTERNOON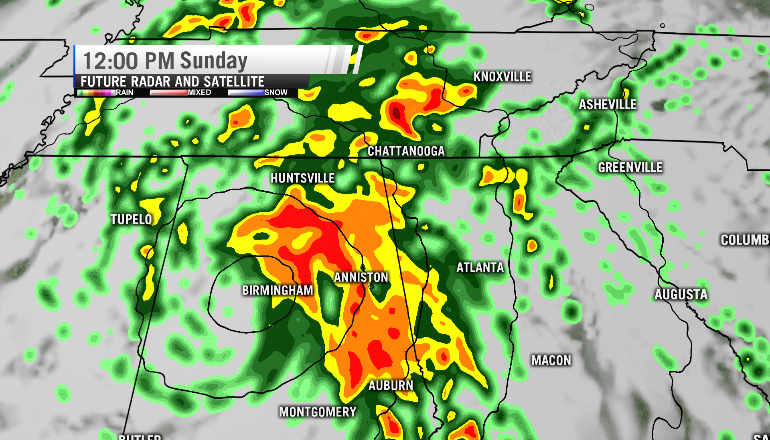 The core of Nate's system will be moving northeast through Birmingham towards Huntsville and the I-59 corridor. The majority of Nate's rainfall will be concentrated right on Sand Mountain, where the majority of the system's moisture will interact with the rough terrain of the Cumberland Plateau.
As much as 2-4 inches of rain are possible from I-65 east towards the Georgia border, with the highest rainfall totals occurring higher in the mountains.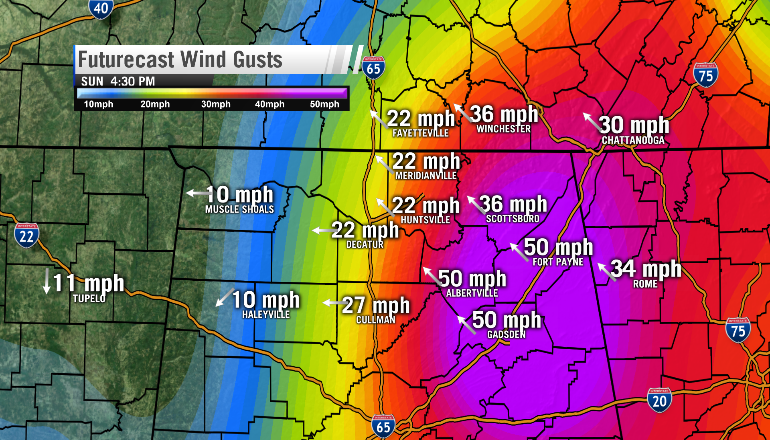 Sustained winds as high as 25-30 mph are possible throughout the Valley, but the greatest wind gusts will be concentrated along Sand Mountain, where the core of Nate may produce gusts as high as 45-50 mph. For this reason, a tropical storm watch is in effect for Cullman, Morgan, Marshall and DeKalb counties.
SUNDAY EVENING
Nate will quickly move out of the Valley Sunday evening. The gusty winds and heavy rain will slacken between 5pm and 8pm Sunday, though a breeze will still blow and light rain will continue to fall through Monday morning.
Severe weather/tornado threat?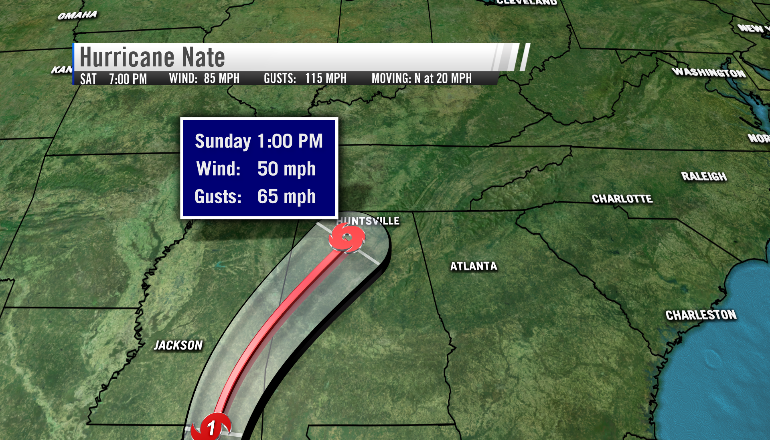 The possibility for severe weather — including brief spin up tornadoes — continues Sunday morning through Sunday afternoon for areas east of I-65.  This is because Nate's counter-clockwise circulation will continue to pull warm, humid air into the Cumberland Plateau, which will create an unstable airmass that is necessary for thunderstorms to develop. In addition, Nate's rotating momentum will transfer towards the ground, allowing a few thunderstorms to produce a few tornadoes. The threat will lessen after 8pm Sunday.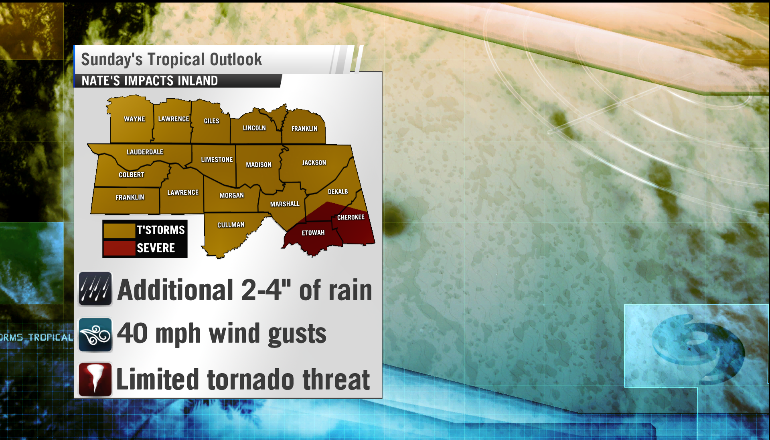 Keep the TV tuned to WHNT News 19 and have the Live Alert 19 app on your mobile device to stay ahead of Nate as it moves into the region.