This is an archived article and the information in the article may be outdated. Please look at the time stamp on the story to see when it was last updated.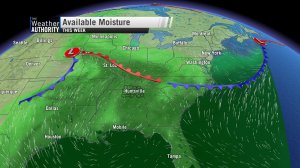 This weekend's system, which brought severe storms and damaging winds, has shifted to the north. That takes the strongest storms north with it, but we won't totally dry out either. We're still in a very warm and humid flow, which will allow for periods of showers and storms each day this week. As temperatures heat back up each day, a few more widely scattered storms will develop during the late morning and last into the afternoon.
The storms that we experience over the next few days will be different in nature compared to those that swept through this weekend. Summertime storms like we expect this week are more isolated and they tend to 'pulse', meaning they strengthen quickly and fall apart just as quickly. Be prepared for heavy downpours, frequent lightning, gusty winds, and small hail to be possible with any storms that develop this week.
In the event that a heavy storm is nearby, you can stay ahead of the wet weather with Live Alert 19  which features our interactive radar as well as live alerts regarding nearby rain or lightning.
Typical Summer Weather Returns: Large upper-level ridges can suppress storm chances for those directly under their influence by 'guiding' storms around the ridge. The caveat to this is that those on the edge of a ridge will still get some storms, especially in thick heat and humidity. Unfortunately for us, we're closer to the edge of the ridge. That keeps in some daily storm chances each and every day this week.
Our best shot at storms will come around on Wednesday as a weak disturbance passes by to our north. The strongest storms stay north in Kentucky and Tennessee, but we'll get clipped by a wave of rain and storms too. The timing will come into better focus as we approach Wednesday, but right now it looks like late morning and early afternoon will be the wettest.
Late in the week the ridge will strengthen more, which once again pushes the best storm chances farther north. This time it looks like we'll get to be under the ridge's direct influence, leading to drier and hotter weather into the coming weekend. This still doesn't mean *no* storms at the end of the week; it just means very few storms.