This is an archived article and the information in the article may be outdated. Please look at the time stamp on the story to see when it was last updated.
It's still hot.  You know it.  We all know it.  September does this sometimes: some hotter years, some cooler years.  Since 1980, Huntsville averages the first 'cool' day of the Fall season around September 26th (high below 75ºF).  So is it possible that we'll get cooler in the next 9-10 days?  It's possible: just not very likely that it's that cool!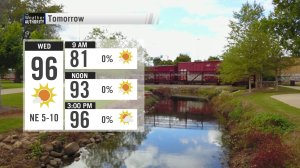 More summer heat greets us through the middle and end of this week: daytime highs in the mid-90s, overnight lows in the 60s and 70s, and a few hit-or-miss showers here and there.
Wednesday looks especially hot; with a high around 96ºF, the heat index climbs up over 100ºF in the hottest part of the afternoon.
There's a very small – not quite zero but not quite high enough to give it a percentage number – chance of an isolated, brief shower or two on Wednesday and Thursday, but most of us stay bone dry until at least Friday.
Heat not unprecedented: Hot weather in mid-September isn't fun, but it isn't unprecedented.  In fact, Tuesday was the anniversary of the end of the second-hottest September week on record in Huntsville.  September 13-18, 1927 brought six-straight days of 100ºF+ heat; the average high that week was 102ºF!
The average high since the 13th of this month has been right around 94ºF, so it can be and has been worse!
Mercifully, the hotter weather begins to fade some by the weekend and next week as more clouds move in with a better chance of some daily thunderstorms.
Fall technically starts Saturday, but the weather doesn't care.  It'll still be hot and very summer-like all weekend long.
Looking toward the weekend:  It's going to be a hot end to the week!  Expect highs in the low-90s Friday afternoon with a better-than-average chance of getting a few heavy thunderstorms from late morning through early evening.  Football Friday high school games might have to contend with some pre-game rain, and a few might even have some first half lightning delays.
Track afternoon and evening storms with WHNT.com's Interactive Radar or swipe over to the radar feature on Live Alert 19!
The weekend still looks hotter than average, but temperatures are trending downward: highs in the lower 90s, a heat index above 95ºF, and a good chance of scattered, unevenly-distributed afternoon and evening downpours. Neither day looks like a wash-out, but you should be prepared for some rain from these hit-or-miss storms in Alabama and neighboring states (thinking college football, etc.) this weekend.
Could it get cooler soon?  'Cool' is a relative term.  What's cool to me might not be all that cool to you, so let's qualify it with a number: highs in the 70s, lows in the 50s without the influence of an overcast sky blocking out the sunshine.
Some model guidance is trying hard to push cooler weather in before the end of the month, but this should be met with a lot of skepticism.  It's entirely plausible that a strong cold front would move in with a good soaking rain followed by a significant cool down in late September; however, there's a lot of very warm water in the Atlantic and Gulf of Mexico and not much of a signal from other global indicators that a big blast of cool air is ready to come south.
It is good that we see it in guidance.  It means there's some hope out there in the next two weeks; however, the timing and real impact of just how cool it could get are two factors that remain 'to be determined!'
Need some specifics about the weekend or next week? They're always online at WHNT.com/Weather and in the "Daily Forecast" section on Live Alert 19!
-Jason
Connect with me!
Facebook: Jason Simpson's Fan Page
Twitter: @simpsonwhnt