This is an archived article and the information in the article may be outdated. Please look at the time stamp on the story to see when it was last updated.
Many of us have our own markers for when fall arrives, whether it's the first day of meteorological fall (September 1st), right after Labor Day weekend, or when pumpkin spice products hit the shelves. Astronomical fall doesn't actually begin until after all of these dates though, with the autumnal equinox on September 22nd.
Of course, we know that the weather doesn't always coincide nicely with these dates. The 90s will stick around all the way through the last official week of fall. Highs jump back into the mid 90s by this Tuesday and with the humidity climbing it's going to feel like we're approaching 100 again.
So then, when does it actually start to feel like fall? It's tough to gauge what fall feels like, because it's a transitional season. The average temperature drops from 82°F on September 22nd down to 52°F on December 22nd.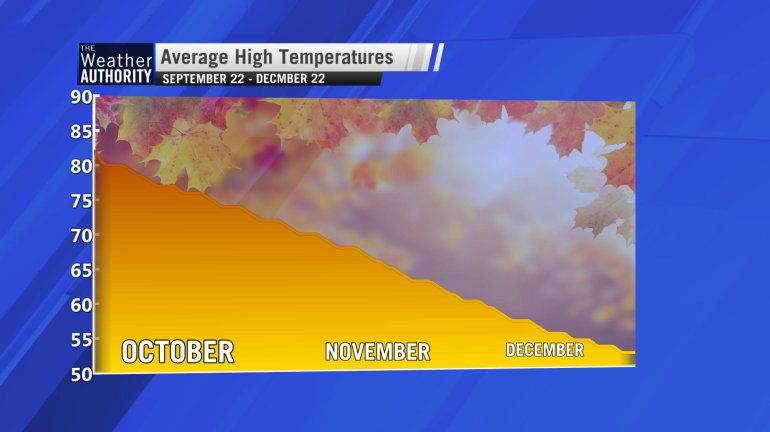 Instead of a smooth drop though, typically we see periods of hot weather followed by periods of cooler weather. As the months wear on the hot periods will get a little more bearable while the cooler periods get a little cooler.
Okay. So, when do the periods of hot weather become more bearable? Huntsville's last 90 degree day on average occurs on September 15th, which has already passed us by. It's not unusually for us to still be seeing the 90s into October though and the latest 90-degree day on record is October 19th. By that standard, it we can expect it to feel like fall more consistently in about a month.
An Early Look At The Start Of Fall: Right now we're in a period of hot weather, but a period of cooler weather could arrive before the month is out! While it doesn't look like a cool, crisp day is in store for this coming Saturday, a cold front approaching the region might make it feel more like fall by next week.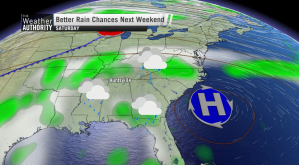 The front nears Alabama Friday, spreading scattered showers and storms over the Tennessee Valley late in the day Friday through Saturday. That front could at least drop us back to seasonable averages (mid 80s) for our first full week of fall.