This is an archived article and the information in the article may be outdated. Please look at the time stamp on the story to see when it was last updated.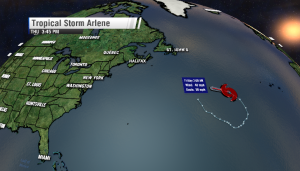 UPDATE AT 4 PM CDT THURSDAY: Tropical Storm 'Arlene' has developed in the Atlantic.
'Arlene' won't last long; conditions in the North Atlantic are unfavorable for further development (and too harsh for the storm to maintain it's strength).
It is no threat to land!  April storm are rare; forecaster Lixion Avila said this about Arlene's formation:
"Tropical storms in April are rare and Arlene is only the second
one observed in this month during the satellite era. It should be
noted, however, that this type of storm was practically impossible
to detect prior to the weather satellite era."


DISCUSSION AND 48-HOUR OUTLOOK
------------------------------
At 500 PM AST (2100 UTC), the center of Tropical Storm Arlene was
located near latitude 37.7 North, longitude 42.0 West. Arlene is
moving toward the west-northwest near 25 mph (41 km/h), and this
general motion is expected to continue until dissipation on Friday.

Maximum sustained winds are near 45 mph (75 km/h) with higher gusts.
Arlene is forecast to become absorbed by a large extratropical low
and dissipate on Friday.

Tropical-storm-force winds extend outward up to 105 miles (165 km)
from the center.

The estimated minimum central pressure is 993 mb (29.33 inches).
(Original post begins here) The National Hurricane Center issued the first tropical advisory for the 2017 Atlantic basin calendar year on Wednesday.
Classified as a subtropical system, Subtropical Depression One formed in the central Atlantic Ocean about 890 miles west-southwest of the Azores. It produced maximum sustained wind speeds of 35 mph, which is 4 mph below the threshold to be considered a subtropical storm.
The system is considered subtropical because of its hybrid nature: It contains features present in both tropical systems as well as mid-latitude systems. In layman's terms, this means that a subtropical system can self-sustain itself like a tropical system, but yet has a temperature-gradient driven property to it that drives mid-latitude systems (like warm and cold frontal passages).
Subtropical Depression One is expected to remain short-lived as it slowly drifts north-northeastward through the Atlantic Ocean. No coastal watches or warnings are in effect.
Annually, the Atlantic Hurricane Season spans from June 1 through November 30. While uncommon, it is not unprecedented for a tropical storm to develop before the start of the Atlantic Hurricane Season.
000
WTNT31 KNHC 192032
TCPAT1

BULLETIN
Subtropical Depression One Advisory Number 2
NWS National Hurricane Center Miami FL AL012017
500 PM AST Wed Apr 19 2017

…SUBTROPICAL DEPRESSION EXPECTED TO DISSIPATE BY THURSDAY…

SUMMARY OF 500 PM AST…2100 UTC…INFORMATION
———————————————-
LOCATION…32.4N 40.0W
ABOUT 830 MI…1335 KM WSW OF THE AZORES
MAXIMUM SUSTAINED WINDS…35 MPH…55 KM/H
PRESENT MOVEMENT…N OR 10 DEGREES AT 12 MPH…19 KM/H
MINIMUM CENTRAL PRESSURE…996 MB…29.42 INCHES

WATCHES AND WARNINGS
——————–
There are no coastal watches or warnings in effect.

DISCUSSION AND 48-HOUR OUTLOOK
——————————
At 500 PM AST (2100 UTC), the center of Subtropical Depression One
was located near latitude 32.4 North, longitude 40.0 West. The
depression is moving toward the north near 12 mph (19 km/h), and
this motion is expected to continue tonight and early Thursday.

Maximum sustained winds are near 35 mph (55 km/h) with higher gusts.
Little change in strength is anticipated tonight, and the
subtropical depression is forecast to become absorbed by an
approaching extratropical low on Thursday.

The estimated minimum central pressure is 996 mb (29.42 inches).

HAZARDS AFFECTING LAND
———————-
None

NEXT ADVISORY
————-
Next complete advisory at 1100 PM AST.

$$
Forecaster Avila