This is an archived article and the information in the article may be outdated. Please look at the time stamp on the story to see when it was last updated.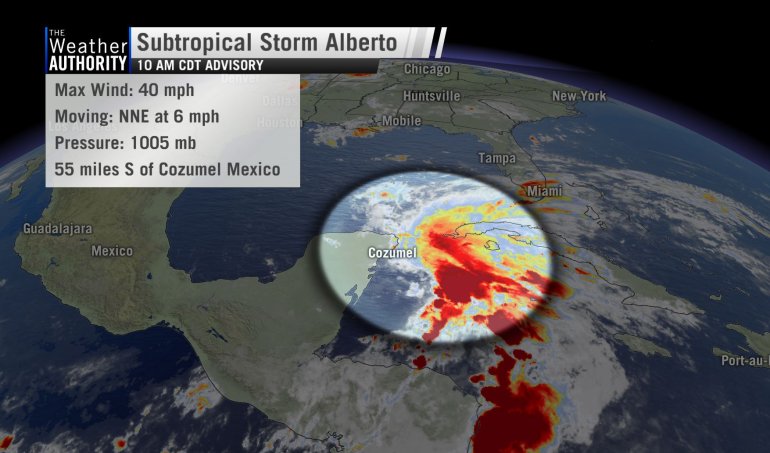 Subtropical Storm Alberto formed Friday morning about 55 miles south of Cozumel, Mexico.
The Government of Mexico has issued a Tropical Storm Watch for the east coast of the Yucatan Peninsula from Tulum to Cabo Catoche.
The Government of Cuba has issued a Tropical Storm Watch for the western Cuban province of Pinar del Rio.
Rainfall accumulations of 4 to 8 inches with maximum amounts of 12 inches are possible across the Florida Keys and southern and southwestern Florida. Heavy rain will likely begin
to affect the central Gulf Coast region and the southeastern United States later this weekend and continue into early next week. Flooding potential will increase across this region early next week as Alberto is forecast to slow down after it moves inland.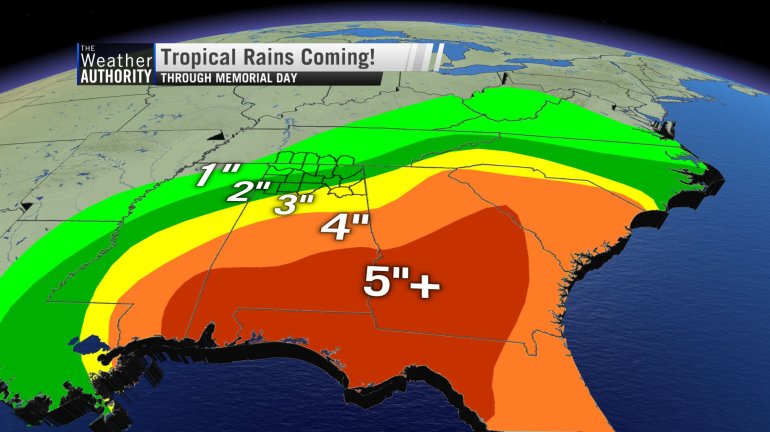 Those drenching rains will also push further north into south-central Alabama and central Georgia. To the east, rainbands will swing heavy downpours and even potential severe storms through central Florida, including Tampa and Orlando.
If vacation plans take you through Mobile, Montgomery, Columbus, Macon or Augusta, be cautious while driving through heavy downpours which may flood interstates as well as surface streets. Anticipate heavier traffic volume while traveling through major traffic hubs like Birmingham and Atlanta.
Heading south for the Memorial Day Holiday? Here's what you need to know
If you're beach-bound for the holiday weekend, you'll want to stay weather aware through Monday, and even extending into the second half of next week:
There is a high risk of rip currents along the Gulf Coast (rip currents can potentially drown even the strongest of swimmers)
Heavy rain is *likely* and could cause some flooding in South Alabama and Northwest Florida (over 5-7" of rain possible)
Sustained winds around 20-40 miles per hour are expected from Sunday through Monday with some higher gusts
There will be some risk of severe weather – including tornadoes – on the east side of this storm's circulation
Even if you are away from home, you can track the heavy rain and storms with the Live Alert 19 app, which will give you local watches/warnings if you have the "use current location" setting on within the app.
Below is additional information from the National Hurricane Center.
000
WTNT31 KNHC 251443
TCPAT1

BULLETIN
Subtropical Storm Alberto Advisory Number   1
NWS National Hurricane Center Miami FL       AL012018
1000 AM CDT Fri May 25 2018

...PRE-SEASON SUBTROPICAL STORM ALBERTO FORMS OVER THE NORTHWESTERN
CARIBBEAN SEA...
...HEAVY RAINFALL EXPECTED TO AFFECT THE YUCATAN PENINSULA...WESTERN
CUBA...FLORIDA...AND THE NORTHEASTERN GULF COAST THROUGH THE
WEEKEND...


SUMMARY OF 1000 AM CDT...1500 UTC...INFORMATION
-----------------------------------------------
LOCATION...19.7N 86.8W
ABOUT 55 MI...90 KM S OF COZUMEL MEXICO
ABOUT 195 MI...315 KM SW OF THE WESTERN TIP OF CUBA
MAXIMUM SUSTAINED WINDS...40 MPH...65 KM/H
PRESENT MOVEMENT...NNE OR 20 DEGREES AT 6 MPH...9 KM/H
MINIMUM CENTRAL PRESSURE...1005 MB...29.68 INCHES


WATCHES AND WARNINGS
--------------------
CHANGES WITH THIS ADVISORY:

The Government of Mexico has issued a Tropical Storm Watch for the
east coast of the Yucatan Peninsula from Tulum to Cabo Catoche.

The Government of Cuba has issued a Tropical Storm Watch for the
western Cuban province of Pinar del Rio.

SUMMARY OF WATCHES AND WARNINGS IN EFFECT:

A Tropical Storm Watch is in effect for...
* Tulum to Cabo Catoche Mexico
* Cuban province of Pinar del Rio

A Tropical Storm Watch means that tropical storm conditions are
possible within the watch area, in this case within the next 24
hours.

Interests along the central and eastern U.S. Gulf Coast should
monitor the progress of Alberto. Tropical storm and storm surge
watches could be required for portions of this area later today or
tonight.

For storm information specific to your area, please monitor
products issued by your national meteorological service.


DISCUSSION AND OUTLOOK
----------------------
At 1000 AM CDT (1500 UTC), the center of Subtropical Storm Alberto
was located near latitude 19.7 North, longitude 86.8 West. The storm
is moving toward the north-northeast near 6 mph (9 km/h). A general
slow motion toward the north is expected through the weekend,
followed by a northwest turn by Monday. On the foreast track,
Alberto is expected to pass near the eastern coast of the Yucatan
peninsula tonight, be near the western tip of Cuba Saturday morning,
emerge over the southeastern Gulf of Mexico by Saturday night, and
approach the north-central Gulf Coast on Monday.

Maximum sustained winds are near 40 mph (65 km/h) with higher gusts.
Gradual strengthening is forecast for the next 72 hours.

Winds of 40 mph extend outward up to 115 miles (185 km) from the
center.

The estimated minimum central pressure is 1005 mb (29.68 inches).


HAZARDS AFFECTING LAND
----------------------
RAINFALL:  Alberto is expected to produce total rain accumulations
of 10 to 15 inches with isolated totals of 25 inches across the
northeastern portions of the Yucatan Peninsula and western Cuba.
These rains could produce life-threatening flash floods and
mudslides. Rainfall accmumulations of 4 to 8 inches with maximum
amounts of 12 inches are possible across the Florida Keys and
southern and southwestern Florida.  Heavy rain will likely begin
to affect the central Gulf Coast region and the southeastern Untied
States later this weekend and continue into early next week.
Flooding potential will increase across this region early next
week as Alberto is forecast to slow down after it moves inland.

WIND:  Tropical storm conditions are possible within the watch
area through Saturday.

SURF:  Swells generated by Alberto are affecting portions of
the coast of eastern Yucatan Peninsula and western Cuba.  These
swells are likely to cause life-threatening surf and rip current
conditions.  Hazardous surf conditions are likely to develop along
much of the central and eastern U.S. Gulf Coast this weekend. For
more information, consult products from your local weather office.


NEXT ADVISORY
-------------
Next intermediate advisory at 100 PM CDT.
Next complete advisory at 400 PM CDT.

$$
Forecaster Stewart