This is an archived article and the information in the article may be outdated. Please look at the time stamp on the story to see when it was last updated.
The Storm Prediction Center outlines a risk of some severe storms for the Tennessee Valley region Thursday.  The primary threat from storms tomorrow: strong, gusty winds, frequent lightning, and locally-heavy rainfall.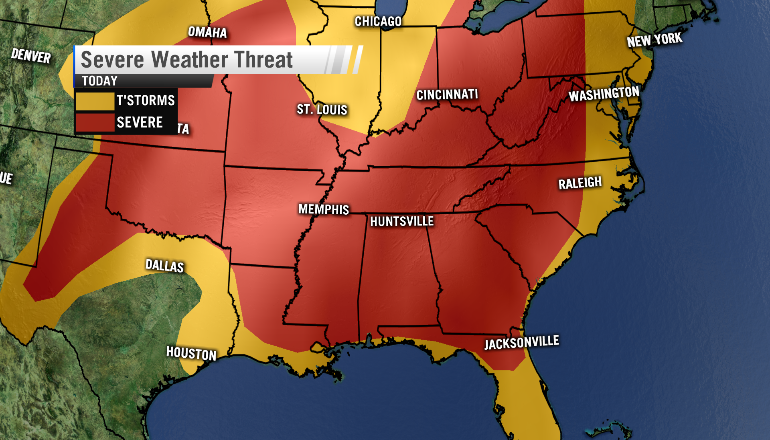 What to expect from Thursday's storms:  The stormy weather moving in Thursday is classic early summertime action: locally-heavy storms with 'mean-looking' shelf clouds, wind gusts over 50 miles per hour, heavy rain, and intense, frequent lightning.  Some small hail could accompany the strongest storms, but the air is so warm throughout a large depth of the atmosphere that large hail is not expected.
Track heavy storms with WHNT.com's Interactive Radar or swipe over to the radar feature on Live Alert 19!
Look for a few isolated showers and even some hit-or-miss thunderstorms as early as 10 AM  to 11 AM; a much broader area of heavy storms moves in from from Tennessee and Mississippi around lunchtime and crosses the entire northern half of Alabama through 7 PM (at the very latest).
Need some specifics about the weekend or next week? They're always online at WHNT.com/Weather and in the "Daily Forecast" section on Live Alert 19!
-Jason
Connect with me!
Facebook: Jason Simpson's Fan Page
Twitter: @simpsonwhnt